Your Nights and Your Mares
Please note: MP3s are only kept online for a short time, and if this entry is from more than a couple of weeks ago, the music probably won't be available to download any more.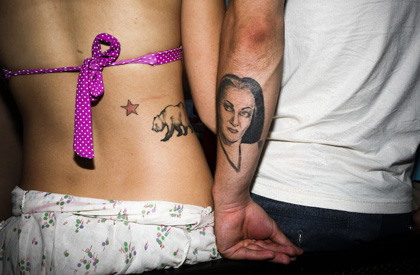 (photo by the wonderful Jay Shuster)
Spider doesn't own a car, she doesn't ride a bike, and she certainly doesn't take the subway or the bus. She rides a horse wherever she goes. It's not for the attention, or because she wants to be eccentric, she doesn't have to try at that, she's just herself. Here she's tossing the saddle onto Gabe's Ol' Jodie, a chestnut Halflinger, at daybreak, the air cold as ice and a thick dew runs down the leather like it's crying, and rides to the supermarket. There she buys dried onion flakes and club soda, for the horse, and a basket of plums for herself. Then she rides up and over the highway to the other part of town and checks on all the places she used to live, to see what's changed. A lot has changed if you know what to look for. [Buy]
Spider will be playing at Pop Montreal, and you can see her at My Hero Gallery Casa del Popolo on Sunday. But you can only go if you promise to come to the Bleating Heart Show that night too, there's time to catch the best parts of both.
--
Hot Springs - "38th Adventure"
The Hot Springs album is way more "radio-friendly" (who even cares?) than I thought. Giselle Webber, by way of biographical information, is the child of Sas(s) Jordan and Robert Plant, and is dating Candi & The Backbeat. Come to think of it, this is the only song she could have made. But seriously, this is surprisingly fun and hits a different emotional spot (pointing to my bubble gum and power chords) than expected. But I like it, it hums and warbles and bops, and that's more than enough. [Buy on iTunes]
Posted by Dan at October 2, 2007 2:21 AM