Said the Guests: Irina Troitskaya
by Sean
Please note: MP3s are only kept online for a short time, and if this entry is from more than a couple of weeks ago, the music probably won't be available to download any more.
If I lived in Russia, I would probably be a thief. Only - and I do mean this, only - because if I were sitting beside Irina Troitskaya on the Moscow subway, I suspect I would be unable to halt my compulsion to "borrow" one of her moleskine notebooks. For more than a year I've been watching them fill up on her flickr stream, and today the Russia I imagine is inhabited with her creations: full of feathers, light, animals and melancholy. The only thing that would stop me from nicking her creations is the knowledge that I'm already carrying them around with me, rolling like marbles in my head, or pressed into the back of my eyes like block-cuts.
I invited Irina to choose three favourite songs, and to make pictures for them. Here they are. I think you'll be as smitten as I was. Please tell her what you think.
Antony and the Johnsons - "Bird Gurl"
Irina Troitskaya - "Bird Gurl" (click for full size)
(buy I Am A Bird Now)
The Decemberists - "The Crane Wife 1 and 2"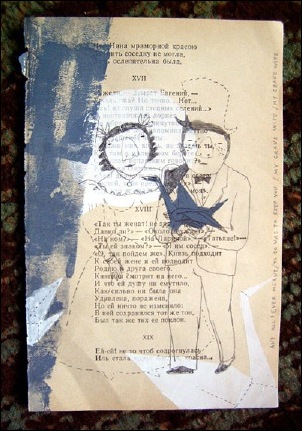 Irina Troitskaya - "The Crane Wife" (click for full size)
(buy the Decemberists' Crane Wife)
Leonid Fedorov - "The Lamp"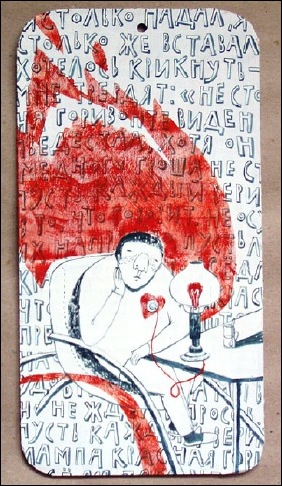 Irina Troitskaya - "Red Lamp" (click for full size)
(more Fedorov)
[Irina Troitskaya was born and raised in Izhevsk, Russia - city of dead ends, sad electronic music and Finno-Ugric cultural roots. Her love of drawing led her to the Udmurt State University, where she studied arts for about five years. But it gave her nothing but weariness. For the first time in her life, drawing became an abhorrence. On graduating from university Irina quit drawing and worked for a couple of years as a TV journalist. She was a presenter of TV programs about artists and the culture of her native city. In the summer of 2003 she decided it was time for a change, packed up, and took a chance in Moscow. Since then she works and resides in the capital of Russia. She is a free-lance illustrator by day and an artist by night. "Life's too short to be someone you don't want to." (homepage, flickr)]
(Previous guest-blogs: artist Eleanor Meredith, artist Keith Greiman, artist Matthew Feyld, The Weakerthans, Parenthetical Girls, artist Daria Tessler, Clem Snide, Marcello Carlin, Beirut, Jonathan Lethem, Will Butler (Arcade Fire), Al Kratina, Eugene Mirman, artist Dave Bailey, Agent Simple, artist Keith Andrew Shore, Owen Ashworth (Casiotone for the Painfully Alone), artist Kit Malo with Alden Penner (The Unicorns) 1 2, artist Rachell Sumpter, artist Katy Horan 1 2, David Barclay (The Diskettes), artist Drew Heffron, Carl Wilson, artist Tim Moore, Michael Nau (Page France), Devin Davis, Will Sheff (Okkervil River), Edward Droste (Grizzly Bear), Hello Saferide, Damon Krukowski (Damon & Naomi), Brian Michael Roff, Howard Bilerman (producer: Silver Mt. Zion, Arcade Fire, etc.). There are many more to come.)
Posted by Sean at March 21, 2007 8:24 AM

The end of the Leonid Fedorov song is amazing. Someone's trying to scrabble their way out of my head and I think I love it.
The illustrations are magnificent (Oh! The crane wife!). Just minutes ago, my dreams of russia were darkly inspired by bulgakov. But this... Feed us more!
(typo in the flickr link, btw.)