I WRITE LOUSY SHOW REVIEWS
by Sean
Please note: MP3s are only kept online for a short time, and if this entry is from more than a couple of weeks ago, the music probably won't be available to download any more.
[Continuing the talk about Said the Gramophone's Pop Montreal series of concerts, and the artists thereof.]
Those who spent Friday, October 5th at the Ukrainian Federation were rewarded with a whole heatwave of song - enough sweat & steam & beauty to raise a crop of hothouse flowers. Yeasayer were as singular & special as I had dreamed: I watched the audience's eyes go wide. Who are these guys? they murmured, while the band loosed quadrupled hollers, redoubled chants, synth-pad drums and slip-knots of melody. The only thing I'm not sure of is the front-man's hand gestures. Then Plants and Animals warmed our fingers and toes, three guys making enough jam for a hundred sandwiches. And though it took a few songs to settle their feet into the soil, Grizzly Bear, o grizzly bear, let everything grow and curl and rise like ivy. They were as beautiful and stray as I had ever hoped, and this my first time seeing them. Owen Pallett guested on "Marla" in its first-ever live performance, "He Hit Me (And It Felt Like a Kiss)" hit harder and gleaminger than ever, and "Fix It" was like waking from headache into dream. The night had such a perfect crescendo; at the very end we were all so hot, and so at peace, and if our hearts were seeds our veins would have been filled up with leaves.
---
And then there was Sunday. Dan wrote about it, precisely. Carl has now, too. It was in a church chapel, older than electricity, four bands running on a single flimsy breaker and all of our fingers crossed that the place would not go abruptly dark. The pews were made of wood and there was no booze. The first three bands offered hushes of varying degrees. Casey Dienel's new songs are autumnal and subtle and sensitive to light: a jazz of smiles, bicycle baskets and want. Her band's freer than you'd guess, worthy of its own name, and when their album is released next year you'll hear what I mean (from under all that snow). Elfin Saddle's lull and racket feels Montreal-born (even if it's not), the sort of stuff that can only grow near our particular train-tracks. And Horse Feathers - their performance was such that I could sense all of our internal candles flickering. So much fury, hurt and longing locked in a set of songs that seem so sweet, so heartbreakingly lovely. Like a hand stuck into a fire.
Okay but Clues.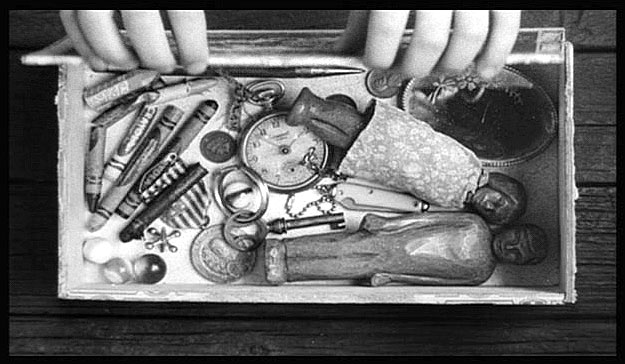 This is the new band by Bethany Or (Liederwolfe), Alden Penner (The Unicorns), Brendan Reed (Letlowns, Les Angles Morts, etc), and at least on Sunday a fellow on bass who plays in Anemones and whose name I thought was Steven but about which I must have been mistaken. And they were fucking amazing. The most exciting rock band in Montreal right now, seems to me, and that was clear even a night after seeing Sunset Rubdown play Le National. There's been some controversy about between-song fucking around, about performance and acting out, but for me that was the stuff of a band trying on its mantle, of artists who have a lot to say and are in a rush to say it even before they've figured out all the words. Before they went on stage they were playing with the chapel's wireless priest-mic, trying to figure it out, and to those of us in the pews (or behind the sound-board) it sounded like the speakers were melting. When I went back to ask them what the hell was going on there was such a funny expression on their faces. Telling me "It's fine, Sean, sorry," with utter friendliness, but knowing I could see the glint in their eyes. (In the glint: an acknowledgment of the necessity of mischief.) When Alden later donned a "cape", I'm pretty certain it was the priest's cloak from backstage, and my grin was unholy in its breadth.
Clues - "[Unknown title - "Blues Clues"] (live)" (recording by "thewalrusnp")
But anyway these details are accessories to the fact of Clues' songs. They're wide and fierce and fun and reach very deep. Hysteria, certainty and pleasure tied up in the same old mail sack, tossed into a leaping sea.
There's an urgency to most great pop music - but it takes something else for a song to become beloved, for it to be a hero and not just well-respected. And it's there in Clues: in their gusto, bravado and play you get the feeling that they could hoist themselves out of the water by grabbing the napes of their own necks. Like Baron Munchausens in overlarge capes, carrying drumsticks, accordion, an eyeblue electric guitar.
Clues are gonna break hearts, and suture them.
---
Eef Barzelay (once-of-Clem Snide) wrote me in reference to some recent posts here and wanted me to invite our British readers to definitely go see him when he plays London this month:

Oct 23 - Water Rats, London, UK
Oct 17 - KoKo (with Broken Family Band), London, UK
The self-titled album will hopefully be out in the US in early 2008, but will "be out in Spain shortly".
The Spaniards love me
, he says,
and I love them right back.
Eric makes a modest state-of-the-mp3blog-union address. Right on, my brilliant & eggheaded friend.
Posted by Sean at October 15, 2007 11:53 AM