POP MONTREAL 2013: Ten Picks
by Sean
Please note: MP3s are only kept online for a short time, and if this entry is from more than a couple of weeks ago, the music probably won't be available to download any more.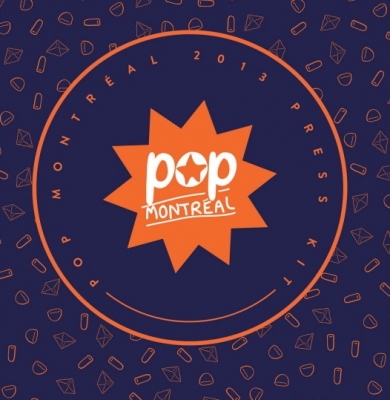 This September/October is too overwhelming a September/October to compose a complete Guide to Pop Montreal as I've done in previous years. (At the time of writing, I'm in Toronto as a Polaris Prize jurist.) If you're new to the festival, most of my introduction to last year's edition continues to apply - Montreal's still the same city, Pop Hopper and other festival passes still work in the same way, Pop's Symposium conference is still a neglected treasure, and my overall festival advice remains unchanged. That advice? Seek out the extraordinary. Screw any show where Pop is just one more stop on an act's touring route. Screw the shows where it's a couple of local acts playing the same old spaces. Find the least pedestrian of concerts, the follies that won't ever happen again - one-offs, rare bookings, special settings, or perfectly curated showcases. And don't run around so much that you don't have any fun.
Here are ten picks for this year's Pop Montreal:
Songs of Darkness (Rialto, Sunday, 8pm - $25)
As a critic, I find the concept of this concert hokey to the max: a one-off gig drawing from "[the musicians'] personal connection to the ubiquitous theme of darkness in music. An evening of not just acknowledgement, but celebration of the darkness that inhabits the music we hear every day and that exists within ourselves." The description evokes a clumsy high-school art project, something amateurish and tryhard.

But musicians aren't writers, and they shouldn't be blamed when their earnest synopsis comes off like the intro to a DeviantArt gallery. Here, some of the city's great art-folk musicians will try to make something beautiful and powerful together, in one of the city's most beautiful performance spaces: AroarA, Little Scream, Patrick Watson, Sarah Pagé, Hans Bernhard, Joe Grass, Becky Foon (Saltland), Lil Andy, and more. I think this will be lovely.

Killer Mike in conversation with Matt Sonzala(Pop HQ, Saturday, 5pm - free)
This free Symposium event is a pretty extraordinary thing: Killer Mike, one of my favourite contemporary rappers, in a little room, with a (probably) small-ish crowd, talking about whatever we (and Sonzala, a former SXSW hip-hop boss) ask him. Could be one of those bonkers, brain-filling moments that only Pop makes possible. (See also similar 2013 festival talks with Yellowman, Dan Graham, Bernie Worrell/Fred Wesley, Tony Visconti, Shuggie Otis, etc.)
Les Soeurs Boulay + Michael Feuerstack + Safia Nolin (Breakglass Studio, Sunday, 7pm - $10)
In the intimate, magical Breakglass Studio, two exceptional acts. (I don't know Safia.) The Boulay sisters sing songs as sweet as tire d'érable, shot through with showy melancholy; they're also some of the most charismatic performers I've ever seen. Feuerstack, the singer-songwriter formerly known as Snailhouse, is one of the best lyricists making music right now. Still, these artists are an odd pairing: while both make folk-music, more or less, they seem to reside in completely different worlds. My hope/dream is that the Boulays and Feuerstack come together in a non-mun unexpected way: for laughs. Three of Montreal's best banterers, on a single bill.
Li'l Andy in 3D + Sea Oleena (Rialto, Friday, 8pm - $18)
Andy's a clear-eyed country singer, one of contemporary Montreal's musical fixtures. In 2008, this tall ladykiller played one of my favourite Pop Montreal concerts of all time - a late-night performance of Neil Young's Tonight's the Night. Here he is performing accompanied by an original 3D film - yes, 3D as in 3D-with-glasses, by Yves Bourgeois. He'll be joined by guests including Patrick Watson and Whitehorse, with an opening set by the promising phantom-folk singer Sea Oleena.
Miracle Fortress + Seoul + Silverkeys + Mori (Rodos en Haut, Saturday, 8pm - $12)
My pick for the best small, special, inexpensive local showcase. A handful of the city's great young bands: Miracle Fortress is unwavering, chilled-out (and a little hungry, I think). Mori are tender slinkers, Seoul are slowfade slowjam. And Silverkeys, making their live debut, are the new thing from my friend Adam "Amethysts" Waito. Cozy in for the night and hear new sounds. (The other local showcase that rings my bell is this one on Friday night, with Freelove Fenner, Pat Jordache and The Moment - all StG faves - but in a boring-er venue.)
The-Dream + Mozart's Sister (Olympia, Friday, 8pm - $45)
If this were 2011, this would be my number-one can't-miss essential festival gig: The-Dream, aka Terius Nash, one of R&B's great kings, and Mozart's Sister, aka Caila Thompson-Hannant, one of Montreal's most liberated musical heroines. The-Dream didn't just co-write Rihanna's "Umbrella" and Beyoncé's "Single Ladies" - as a solo act he he made three of this decade's best urban records, crass and lush, bizarre and singular, jewelled and sexy. Like a more hypnogogic R Kelly, maybe (only without the rhymes); or a frustrated, obsessive Justin Timberlake.

But this is 2013, not 2011, and The-Dream's splendid album run has ended. His last two LPs, 1977 and IV Play, were pretty much worthless. His new songs droop and sag. His well of fresh sounds seems to have dried up. And as a performer, Nash was never that appealing - he can't dance, and he seems like a jerk.

If this seems like an indictment, it sort of is - I wouldn't dare predict that this show will be worth the (steep) ticket price. But for those, like me, who are already fans, Friday night could offer a fascinating portrait of an artist we once adored. It's worth it if only to support Pop Montreal's risk-taking, and to see Caila take a big centrestage. Besides, maybe he'll play the old stuff.

Leif Vollebekk + Angel Olsen (Ukrainian Federation, Friday, 8pm - $20)
Vollebekk's North Americana is one of the albums of the year, tragically overlooked by the Polaris. Fresh from triumphant residencies at the Musée d'art contemporain de Montréal and New York's Rockwood Music Hall, he's back at home to headline perhaps his biggest-ever concert. That adjective - "biggest-ever" - is what makes this gig special. Leif's nervous about the UK Fed and those nerves are going to translate into an exceptional evening - with special guests, drums and strings, songs that crest and break, that don't ever feel safe. Chicago's ghostly Angel Olsen opens.
Colin Stetson + Tim Hecker (Rialto, Thursday, 8:30pm - $22)
Playing live, Tim Hecker doesn't do anything. He stands behind his laptop like an obelisk. He refuses to go easy on you: no distractions, no entertainments, no tools to decode the noise that's rising all around you. Hecker wants you to face these sounds exactly as you are, without help or adornment. (Sometimes - and hopefully, at the Rialto - he fills the room with smoke.)

This is rarely easy. But if it's the right night, and you're in the right headspace, the experience is transformative. An hour with yourself, in the din, as Hecker summons weather. For me, it is best when I can stand - when I can stand and move around, travelling a hall, hearing the way the roaring sounds reflect and change throughout the angles of the room. For that alone - to hear the shape of Hecker's music, filling the Rialto - I would come to this gig.

But then there's also Colin Stetson - devastating, inimitable, literally incredible. Bravely making an impossible music - singing whalesong and starsong through a damn piece of brass.

Whoop Dee Doo!! (Pop HQ, Saturday, 2pm and 4pm - pay what you can)
Kansas City's bonkers kids show Whoop Dee Doo!! lands in Montreal for a pair of parties that, I suspect, will push the gladdest buttons of any child or childlike grown-up. Josh Dolgin (Socalled) and Ruby Attwood (Yamantaka//Sonic Titan) are assisting - I predict magic, make-up, and lots of happy falling down.
L'Ensemble d'Ondes de Montréal with Radwan Ghazi Moumneh, Marie-Jo Therio, and Patrick Watson (Ukrainian Federation, Wednesday, 8pm - $25)
With the EOM celebrating its 37th anniversary, they are sending three ondes-martenot players to join a group of unlikely (and much younger) musicians: the arty folksinger Patrick Watson, Radwan Ghazi Moumneh (who makes experimental Arabic music with Jerusalem In My Heart), and Québec chansonnière Marie-Jo Thério. From what I understand, the ondists will be playing original music - adapting Moumneh's Middle Eastern scales or Watson's glassy melodies. Guaranteed singular, spectral and far-out.
Posted by Sean at September 23, 2013 12:25 PM