BEST SONGS OF 2015
by Sean
Please note: MP3s are only kept online for a short time, and if this entry is from more than a couple of weeks ago, the music probably won't be available to download any more.
These are my 100 favourite songs of 2015: songs I love more than fruitbowls, commas and national parks.
I follow just one arbitrary rule: that no primary artist may appear twice.
I made similar lists in 2005, 2006, 2007, 2008, 2009, 2010, 2011, 2012, 2013 and 2014.
The best way to browse this list is to click the little arrow beside each song and then to listen as you read. The things you like you can then download by right- or ctrl-clicking with your mouse.
You can also download the complete 100 songs, in three parts:
Said the Gramophone is one of the oldest musicblogs.
We try to do just two things, well
:
finding good songs
, and
writing about them
. We don't mess about with tour-dates, videos or advertising. We post new songs and old songs, write impressions, stories, essays, clumsy dreams of what we hear.
Said the Gramophone has four authors: Emma Healey, Sean Michaels, Jeff Miller and Mitz Takahashi; this list is all Sean's dumb doing - don't blame the others for my bad taste.
If this is your first time at Said the Gramophone, I hope you'll bookmark us or subscribe via RSS. You can also follow me on Twitter or read my weekly column in The Globe & Mail.
Among these 100 artists, 38 are mostly American, 29 are Canadian, 18 are British, 3 are Australian, 3 are French, 2 are Nigerian, 2 are Swedish, and there is 1 Congolese, 1 Irish, 1 Kiwi, 1 South African and 1 Saharan act. This is the way it worked out; it certainly isn't perfect.
48 of the frontpeople/bandleaders are female-identified - the highest number, by far, since I started counting in 2011. 48 are male-identified, (at least) 1 is transgender, and there are 3 mixed-gender duos.
My favourite songs of the year do not necessarily speak to my favourite albums of the year. Songs and LPs are entirely different creatures. My favourite albums of 2015 were Fadimoutou Wallet Inamoud's Isswat, José Gonzalez's Vestiges & Claws, Ian William Craig's A Turn Of Breath, Drake's If You're Reading This It's Too Late, Arlt's Deableries, Julia Holter's Have You In My Wilderness and Carly Rae Jepsen's EMOTION.
Some songs that you heard in 2015 may have been omitted from this tally because I heard them before this year, and included them in my Best of 2014.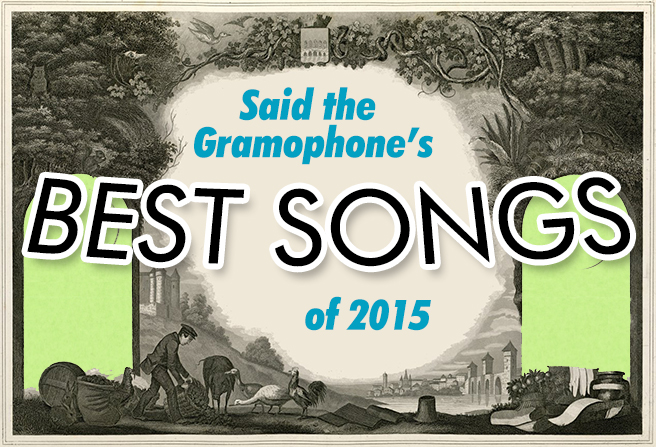 And that's 2015's century of songs, or the way they seem today. There are so many that didn't make it, that I wish I were pointing you to. Thank you to everyone who sent some favourites in. There will be so many I've missed (there are so many I'm already remembering). Maybe make your own suggestions in the comments.
At Said the Gramophone we spent the year writing about as many wonderful songs as we could, and old songs too, treasures kept in chests. If you're new to the site, please come again (or subscribe). We update almost every weekday, penning tales about the tunes that make us think YES
Thanks for reading, sorry for the broken links, please support these artists with your money. (Invest in things that are important.) Be kind to each other, burn things down, do better.
Posted by Sean at December 7, 2015 9:00 AM

Mbongwana Star Yes! Yes! Yes!
Fascinating list — I've only heard of four or five of them, I don't have ANY of them in my collection, and I suspect I would actively dislike many of the choices. That said, if I were to to take the time (and considerable effort) to list my "top 100" your response to my list would be similar to my response to yours. The sheer amount of available music is staggering — something for everyone, too much for most of us. Thanks for your list and your comments...
Congrats on another brilliant list. Listening now - being exposed to so many new tunes that are cracking me open. So good guys. And beautiful writing!
Always look forward to this list. Never disappoints!
I can't thank you (all of you) enough for the music and the words on here... so thank you.
aces as always Sean! is there a spotify playlist of this lineup yet?
Awesome list :) I need to check out some of these soon. Perhaps you would like Colleen's "Captain of None" and Tropic of Cancer's "Stop Suffering"?
Thanks Sean. My friends and I use your yearly list to start and an email chain about what we've found through the year and are always introduced to new material. May you live a thousand years and never list Alicia Keys again!
i look forward to this post every year! thanks for everything you all do!
Sean, this is one of my favourite parts of the year's end. Thank you & lots of love!
lovely as always Sean, thank you.
Every year, I come to this site in early December and refresh and refresh and refresh until this post eventually shows up. I then download the 3 zips, upload the mp3's into my ipod, then drive around town for the next few weeks sifting through your list. I then make my own list of favorites from your favorites, chipping it down to about 20. I then listen to those 20 songs over and over again until spring. Thanks for helping me yet again to have a wonderful winter soundtrack for my life. Your blog is a gift.
Thank you so much, I look forward to your list every year!
I love this list every year, thanks again for the sterling effort. And to compliment this list, here's my own Top 50 Tracks of 2015. The difference being, my tracks are more electronic music based: http://theletter.co.uk/blog/top-50-tracks-of-2015. Enjoy!
Always love seeing what you choose. Every December I download the newest set of 100 songs, my wife and I listen to it in heavy rotation over the next couple of months, and we invariably buy a handful of albums as a result. Thanks for continuing to introduce us to new sounds!
(I agree about the earlier mix of "Realiti" being superior to the album version—Grimes should have vocal reverb; it's part of being on 4AD.)
xoxo
Thank you for this, which is now a holiday tradition for me.
Just gotta echo the sentiments above - I look forward to your list every year and always discover a bunch of gems that find their place in my daily rotation of songs... thank you so much!
Love your end of year lists! Always find so many tracks that absolutely floor me! Have been checking out and looking forward to these lists every year since 2012.
You guys rule!
Thanks again!
Yours Sincerely,
Mr Fizzle
I, Donald Trumpet, endorse this great website Said the Gramophone and their consistently boner-inducing end of year lists.
That is all.
Kind Regards,
Donald ('The Trumbone') Trumpet
(A.K.A POTUS 2016)