Said the Guests: Danny Zabbal
Please note: MP3s are only kept online for a short time, and if this entry is from more than a couple of weeks ago, the music probably won't be available to download any more.
Danny Zabbal lives on another planet. Well, he lives 15 minutes away from me, but everything about him is from another planet. He has an imagination that is both boundless and bounding, as in, across the great reaches of space, or through a deep forest, or a trap door. He joins us today, sits and laughs in his chair, and draws to the music.
The New Pornographers - "Stacked Crooked"
this is a full-page comic, and must be viewed in full to get it all. click it!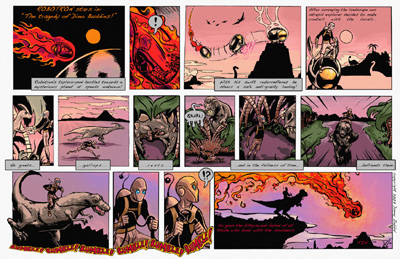 --
again, click for full size.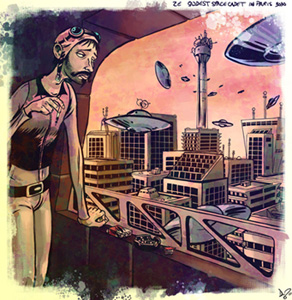 --
visit Danny's website for new treasures every single day.
--
(Previous guest-blogs: artist Irina Troitskaya, artist Eleanor Meredith, artist Keith Greiman, artist Matthew Feyld, The Weakerthans, Parenthetical Girls, artist Daria Tessler, Clem Snide, Marcello Carlin, Beirut, Jonathan Lethem, Will Butler (Arcade Fire), Al Kratina, Eugene Mirman, artist Dave Bailey, Agent Simple, artist Keith Andrew Shore, Owen Ashworth (Casiotone for the Painfully Alone), artist Kit Malo with Alden Penner (The Unicorns) 1 2, artist Rachell Sumpter, artist Katy Horan 1 2, David Barclay (The Diskettes), artist Drew Heffron, Carl Wilson, artist Tim Moore, Michael Nau (Page France), Devin Davis, Will Sheff (Okkervil River), Edward Droste (Grizzly Bear), Hello Saferide, Damon Krukowski (Damon & Naomi), Brian Michael Roff, Howard Bilerman (producer: Silver Mt. Zion, Arcade Fire, etc.). There are many more to come.)
Posted by Dan at April 4, 2007 2:38 AM

awesome herge-inspired dino-world:)
This didn't get enough "Way to go's" for my liking, so I will say that you are very awesome, sir.
inspiring embodiments for sure
Excellent posts, as always. But I've had problems viewing the comic pages in full: I clicked the first and it loaded what looks to be three quarters of the full page...it cuts off around the edges. Hmph.
about said the gramophone
this is a daily sampler of
really good songs
. all tracks are posted out of
love
. please go out and
buy the records
!
to play a song in your browser, click the

. to download a song, right-click the link and choose 'Save as...'
all songs are removed within a week or two of posting.
said the gramophone
launched in march 2003, and added songs in november of that year. it was one of the world's very first mp3blogs.
if you would like to say hello, find out our mailing addresses or invite us to shows, please get in touch:
montreal, canada:
sean
toronto, canada:
jordan
toronto, canada:
dan
please don't send us emails with tons of huge attachments; if emailing a bunch of mp3s etc, send us a link to download them. We are not interested in streaming widgets.
if you are the copyright holder of any song posted here, please
contact us
if you would like the song taken down early. please
do not direct link
to any of these tracks. please love and wonder.
"and i shall watch the ferry-boats / and they'll get high on a bluer ocean / against tomorrow's sky / and i will never grow so old again."
about the authors
Sean Michaels
lives in Montreal. He is a writer, critic and author of the theremin novel
Us Conductors
. Follow him on
Twitter
or reach him by email
here
.
Dan Beirne
is an actor and writer living in Toronto. Any claim he makes about his life on here is probably untrue. Email him
here
.
Jordan Himelfarb
lives in Toronto. He is an opinion editor at the
Toronto Star
. Jordan's posts appear at Said the Gramophone only on the last Wednesday of every month. Email him
here
.
Site design and header typography by
Neale McDavitt-Van Fleet
. The header graphic is randomized: this one is by .
our patrons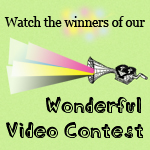 search
Archives
elsewhere
our favourite blogs
(◊ means they write about music)
Back to the World
La Blogothèque
◊
Weird Canada
◊
Destination: Out
◊
Endless Banquet
A Grammar (Nitsuh Abebe)
◊
Ill Doctrine
◊
A London Salmagundi
Dau.pe
◊
Words and Music
◊
Petites planétes
◊
Gorilla vs Bear
◊
Herohill
◊
Silent Shout
◊
Clouds of Evil
◊
The Dolby Apposition
◊
Awesome Tapes from Africa
◊
Molars
◊
Daytrotter
◊
Matana Roberts
◊
Pitchfork Reviews Reviews
◊
i like you [podcast]
Musicophilia
◊
Anagramatron
Nicola Meighan
◊
Fluxblog
◊
radiolab [podcast]
CKUT Music
◊
plethoric pundrigrions
Wattled Smoky Honeyeater
◊
The Clear-Minded Creative
Torture Garden
◊
LPWTF?
◊
Passion of the Weiss
◊
Juan and Only
◊
Horses Think
White Hotel
Then Play Long (Marcello Carlin)
◊
Uno Moralez
Coming Up For Air (Matt Forsythe)
ftrain
my love for you is a stampede of horses
It's Nice That
Marathonpacks
◊
Song, by Toad
◊
In Focus
AMASS BLOG
Inventory
Waxy
WTF [podcast]
Masalacism
◊
The Rest is Noise (Alex Ross)
◊
Goldkicks
◊
My Daguerreotype Boyfriend
The Hood Internet
◊
things we like in Montreal
eat:
st-viateur bagel
café olimpico
Euro-Deli Batory
le pick up
lawrence
kem coba
le couteau
au pied de cochon
mamie clafoutis
tourtière australienne
chez boris
ripples
alati caserta
vices & versa
+ paltoquet, cocoa locale, idée fixe, patati patata, the sparrow, pho tay ho, qin hua dumplings, caffé italia, hung phat banh mi, caffé san simeon, meu-meu, pho lien, romodos, patisserie guillaume, patisserie rhubarbe, kazu, lallouz, maison du nord, cuisine szechuan &c
shop:
phonopolis
drawn + quarterly
+ bottines &c
shows:
casa + sala + the hotel
blue skies turn black
montreal improv theatre
passovah productions
le cagibi
cinema du parc
pop pmontreal
yoga teacher Thea Metcalfe
(maga)zines
Cult Montreal
The Believer
The Morning News
McSweeney's
State
The Skinny
community
ILX