THE BLEATING HEART SHOWS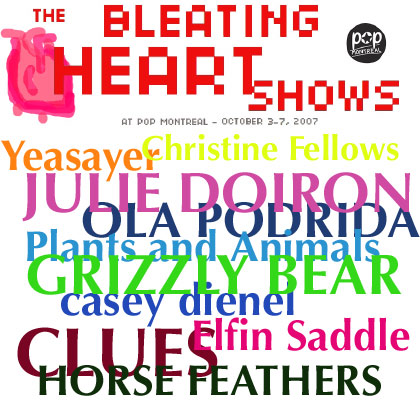 October 3rd to 7th, this city will host Pop Montreal, one of the finest music, art, craft and film festivals that the world has ever known. Yes! The mountain, the plateau, the Mile End - all of it will be aswirl and ashake with sounds, sights, high-fiving artists and poutines galore. Everyone's comin' down and you should too. C'mon!
As part of Pop Montreal, Said the Gramophone's teamed up with Canadian megablogs Chromewaves and i (heart) music to present five nights of concerts known as the Bleating Heart Shows. We've invited some of our favourite artists from across North America to play for us, for you, for the whole damn community.
Seeing as we're local kids, Said the Gramophone curated three of the five evenings, and they are as follows:
Wednesday, October 3rd:
Lily Frost! Christine Fellows! Julie Doiron! Ola Podrida!
An evening at the intimate Main Hall with some of our favourite singer-songwritery things, largely with bands in tow. Winnipeg's Christine Fellows writes songs with a needle point, a knife edge, a fish flick. Julie Doiron is long-beloved and now Polaris Prize-nominated, with works at once tender and white hot. And Ola Podrida's folk-rock is one of the past year's great discoveries: songs about longing, driving, and foolin' around in photo-booths. Plus: Toronto chanteuse Lily Frost! And part of the kit'n'caboodle will be recorded by the CBC for future radio broadcast. [more info]
Friday, October 5th:
Yeasayer! Plants and Animals! Grizzly Bear!
Ye olde Ukrainian Federation becomes a site for whatever comes after bliss. Like, whatever's bigger than bliss. Because Yeasayer recorded maybe the best song of 2007, they've toured with Frog Eyes and Hanson, and their live show's supposed to lift the glaze from your eyes. Because Plants and Animals are one of Montreal's new hopes - cool, breezy, and apricot jam. And Grizzly Bear, well - we all know Grizzly Bear. Gramophone friends for years, now - come and join me as I hear them play for the very first time. [more info]
Sunday, October 7th:
Casey Dienel! Elfin Saddle! Horse Feathers! Clues!
And what's perhaps the most special of all, helping to close out the 2007 festival, two favourite bands that come from faraway and two more that are mostly secrets, nursed at home. This show is all ages, and hosted at the beautiful (small!) Birks Chapel. Casey Dienel's a morningstar songwriter, light and bright at the same time - part Malkmus, part Spektor, part honeycomb. Elfin Saddle are two artists that spin seashore rackets, forest anthems, on ukelele, broken accordion, saw, drumkit and holler. Horse Feathers topped the list of artists that Dan, Jordan and I wanted to bring to town - Portland's fiercest spirits, hot voices with banjo, celeste, cello. And Clues, well, you've not heard of Sunday's headliner. They're a new thing, scarcely heard, the work of three Montreal kids & the lines on their hands read: promise. Bethany Or (Shanghai Triad), Brendan Reed (Les Angles Morts), and Alden Penner (The Unicorns). Oh oh oh oh oh. [more info]
And so, and so, two tastes of some of the marvels on offer. And perhaps more to come in the next week and a half:
Plants and Animals - "Feedback in the Field". A homing pigeon loosed and then chased - 'cross rivers and overpasses and office buildings and indeed across fields. It starts with a whistle, someone's best imitation of the bird, but before the end of the song that plumed thing is way out of sight and all we got left is an electric guitar to sing the same tune. Breathless, gleeful, the stuff that gets drained away from these late summer days. Plants and Animals say they play "post-classic rock". I say they play dandelion smiles. [Plants and Animals' debut LP, Parc Avenue, is due on Secret City in early 2008.]
Elfin Saddle - "Gods/Sky". Until the song's solstice, it's a rubber band hymn. What's sought is imminent, immanent, a few steps away through the briar & rushes. You can sing it in words, in twinned voices. But after then, after the middle point, for the song's long autumn and winter, it's a song of something not yet known. An across-the-sea hope, a faraway longing, played with bells, pipe, half a drum kit. The parcel that's not yet arrived. [Elfin Saddle's debut is due later this year.]
Posted by Sean at
3:06 AM
|
Comments (3)