2007's Best Music: Songs
by Sean
Please note: MP3s are only kept online for a short time, and if this entry is from more than a couple of weeks ago, the music probably won't be available to download any more.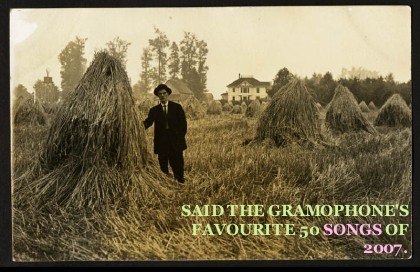 We really only have one rule at Said the Gramophone: write about songs you love. In 2007, Dan, Jordan and I wrote about more than 500 tracks. Some of these we have loved for years, others we loved for a few moments, when they hit us just so with the palm of their eye.
Here are my fifty favourite songs of the year.
2007 was a marvelous year for music and I could have easily written about another hundred wonders. But fifty is enough. Lists are arbitrary and sudden. I tried to just be honest with myself. And I made a few rules, the most significant of which is that no artist is represented twice, even though several should have been. (See also my 2006 and 2005 lists.)
The best way to browse this list is to click the little arrow beside each song and then listen as you read. The things you like you can then download by right- or ctrl-clicking with your mouse. Please buy albums, singles and EPs by bands that you enjoy.
You can also download a complete zip of the fifty songs here, via SendSpace. If someone can figure out how to host a torrent, I'll link to that as well.
Tomorrow we will be sharing some words on our favourite albums of the year. I hope we'll see you then.



















































Thanks for reading. The comment section is right down there.
[haystack photo is from mirroroworld]
Posted by Sean at December 17, 2007 6:32 PM