Settle Down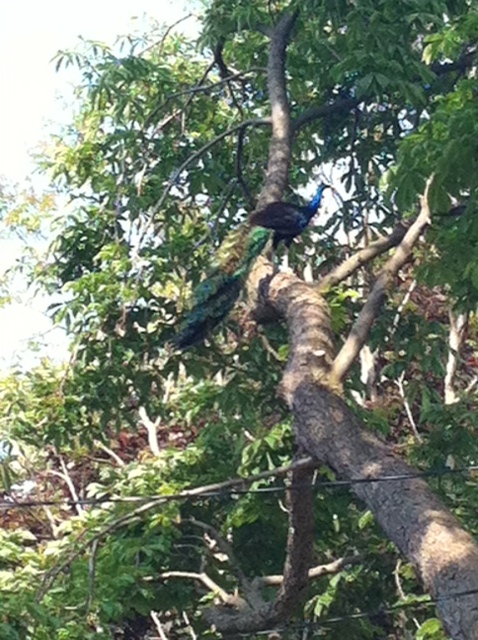 Destroyer - "Trembling Peacock"
The Weakerthans - "Left and Leaving"

I had a whole other post ready to go and then this peacock escaped in my neighbourhood. If you live in Toronto you know all about this already, but if you don't, okay.
So there's this huge park, off-centre in the city, that has everything you could want in a park--coyotes, weird hidden diner, endless trees--plus an outdoor zoo. I don't want to brag, but I'm kiiiiind of an expert when it comes to this particular zoo. I grew up five blocks away from the park, I lost not one but two front teeth in the playground before it was its current sprawl of child-safe palaces, I spoke my first word ("ducks") at the duck pond. So I feel like if you're going to trust someone about this you should probably trust me. The thing about it is that there are bison and mountain goats and whatever and they're cool, but the peacocks are the main event. Everything else is flat brown, thick smell, matted fur, and then you get to these birds and it's a whole other thing. Like, all that colour? Those feathers? That squawk they make like an amplifier exploding? Forget about it. There's no contest. They hang out in groups, hooking up and strutting around and yelling, and the dynamics are amazing. It's like watching a little play every time. The peacock enclosure is big, or at least it seems big to me. But on the other hand, who knows what counts as big when you live with 12 of your closest friends and family?
So anyway, last week I guess one guy got out. Says the news: "He escaped for the first time on Wednesday, spending the night roosting in a residential tree before being coaxed back to the zoo Thursday. But the freedom-loving bird escaped again Friday."
I've only been back home for about a week. For the two before that, I was on this cruise with my mother and my grandmother. My grandmother wanted to see Budapest, she's seen most places but never Budapest, so that's what we did. It's very, very lucky to be able to do a thing like this, for whole bunch of reasons, but still, when people ask me how the trip was I kind of just laugh and go "weird!" because I'm not sure how to say it right. I always find it's hard to talk or write about family because no matter what I say I feel as though I'm betraying something. As in giving away, but also fucking up. You say "we're really close!" or "we drive each other crazy!" and it sounds so flimsy, not right at all. Or you try to give details, plot the points of how you are together, but still it never quite coheres. If you line the three of us--my mother, my grandmother and me--up shoulder to shoulder it can be hard to tell where one of us ends and the others begin. We spent two weeks like this, floating or walking, together. What's it like to do two weeks of pure, uncut family--to spend two weeks in the literally relentless company of people who know you so well they don't know you at all? Oh, you know, it was fun, we saw some castles. Nope.
It was weird, though. I can count the number of times on that trip when I got to be alone--like, really alone--on one hand. Being with anyone like this, like it's a long-distance marathon, can make you a little bit insane. I used to think that the luxury of being alone was that you got to just be you, full selfish and unchecked. But the older I get the more I also think it's that you don't have to be face-to-face with the way you are around other people all the time. Some days, out in the world, I would watch my mother staring at a statue or see my grandmother rifling through her purse for a kleenex and feel such an acute and overwhelming flood of joy that I was sure I'd burst into flame. Some days I'd just be so tired and tired-of that I'd work myself into such a silent sulk over nothing you couldn't look at me without catching a headache. Others, I'd find myself looking up at ancient buildings or European rain or the boat's weird breakfast bar and think of this phrase I was sure I'd come up with on my own: Fibres of a tremendous sadness. I carried that one around with me for practically the whole trip, turned it over and over in my mind.
Apparently the peacock's still out there; he "was last seen jumping from roof-to-roof in the Roncesvalles area," so he's not far from home. A few blocks from where I grew up, from where my mother still lives, and from the park, where everyone he knows still is. I think I get it. The question of how to be alone the right way--how to be kind to yourself and to those around you while you do it--is relentless and maybe unsolveable. Sometimes it's enough to make you feel like the world is trying to crush you into a small cube. It's all a huge mess, really. Is that just family?
When I got home I googled that line about sadness and it turns out it's from a poem I hadn't read or thought about in a million years:
Affection stung
like a rasp drawn over [inaudible]. I thinned the world of it.
Don't live as I did. Allow for terms
of relief. The black

maples aligned along streets, waddling skunks, their dark dusters
through the foxglove, your shoulder bag, shoes, the faces
of strangers; all may strike you as fibres
of a tremendous sadness.

That's you in among the weave of it, new.
It does strange things to you, to love and want to be alone at once. There's different kinds of freedom, all imperfect. No one right way to land in it. Maybe say that to the peacock, if you see him.