BEST SONGS OF 2019
Please note: MP3s are only kept online for a short time, and if this entry is from more than a couple of weeks ago, the music probably won't be available to download any more.
These are my 100 favourite songs of 2019: songs I love more than liquorice, leg-room, and end-of-decade retrospectives.
Said the Gramophone hasn't published much in in 2019. Forgive us: we're very old. I had the best of intentions about rebooting this blog as a monthly essay publisher but we get by on cinders and old string, so it wasn't really to be. Nevertheless: it is nice to be here with you today.
This is the 16th list like this at Said the Gramophone: see 2005, 2006, 2007, 2008, 2009, 2010, 2011, 2012, 2013, 2014, 2015, 2016, 2017 and 2018.
I follow just one arbitrary rule: that no primary artist may appear twice.
The best way to browse the proceeding is to click the little arrow beside each song and then to listen as you read. The things you like you can then download by right- or ctrl-clicking with your mouse.
You can also download the complete 100 songs in three parts:
For the first time this year, I've created
a Spotify playlist
for these tunes. (#76 was not available.)
#


This list is the work of me, Sean, and not any of Said the Gramophone's other contributors. Don't blame them for my questionable taste.
If this is your first time at Said the Gramophone, I hope you'll bookmark us or subscribe via RSS. You can also follow me on Twitter.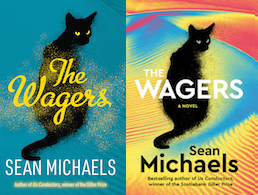 Please read my books! I'm the author of two novels—Us Conductors, from 2014, which reimagines the story of the theremin, and The Wagers, a novel about luck, which came out in Canada this fall and will be published in the USA in January 2020. The Globe & Mail called it "a literary fireworks display, an explosion of joke-filled energy that manages to be a novel of ideas, but one delivered as if it were a caper story." You can learn about both of these books (and order them) at my website byseanmichaels.com
Among the 100 artists below, 38 are mostly American, 21 are Canadian, 16 are British and there are five Nigerian (an all-time high), four Australian, three Irish, three French, two Norwegian, one New Zealand, one Cameroonian, one Trinidadian, one South African, one Colombian, one Spanish, one Swedish and one Ghanaian act. More than 10% of this year's list draws from African producers. 52 of the frontpeople/bandleaders are men, 46 are women, and two acts are girl/boy duos. This is the way it worked out; it certainly ain't perfect. Here are some charts of this and past lists' demographics.

My favourite songs of the year do not necessarily speak to my favourite albums of the year. Songs and LPs are entirely different creatures.
My favourite albums of 2019 were:

Jonathan Personne - Histoire naturelle;
Clairo - Immunity;
Arthur Russell - Iowa Dream;
John Coltrane - Blue World;
Corridor - Junior;
Nilüfer Yanya - Miss Universe;
Purple Mountains - st; and
Matana Roberts - Coin Coin Chapter Four: Memphis;
I promise: all of these are fantastic.
Now, without any more rigamarole, lots of proudly mixed metaphors:

(original image by Amber Vittoria)
Fin,
for another year.
Thanks for reading, sorry for the broken links, please support these artists with your money. (Invest in what's important or it will go away.) Be kind to each other, be brave, endure, undo the harm before you. Remember: you can put music into the air whenever you want.
Love,
Sean
Posted by Sean at December 9, 2019 9:10 AM