Said the Guests: Danny Zabbal
Please note: MP3s are only kept online for a short time, and if this entry is from more than a couple of weeks ago, the music probably won't be available to download any more.
Danny Zabbal lives on another planet. Well, he lives 15 minutes away from me, but everything about him is from another planet. He has an imagination that is both boundless and bounding, as in, across the great reaches of space, or through a deep forest, or a trap door. He joins us today, sits and laughs in his chair, and draws to the music.
The New Pornographers - "Stacked Crooked"
this is a full-page comic, and must be viewed in full to get it all. click it!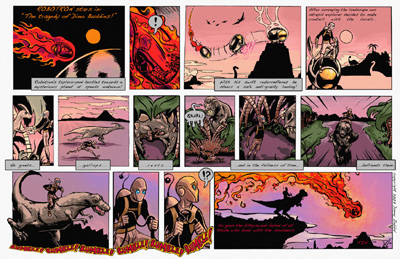 --
again, click for full size.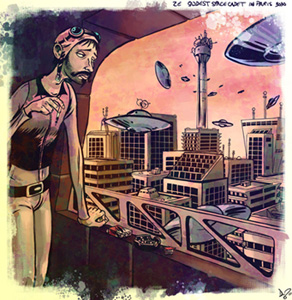 --
visit Danny's website for new treasures every single day.
--
(Previous guest-blogs: artist Irina Troitskaya, artist Eleanor Meredith, artist Keith Greiman, artist Matthew Feyld, The Weakerthans, Parenthetical Girls, artist Daria Tessler, Clem Snide, Marcello Carlin, Beirut, Jonathan Lethem, Will Butler (Arcade Fire), Al Kratina, Eugene Mirman, artist Dave Bailey, Agent Simple, artist Keith Andrew Shore, Owen Ashworth (Casiotone for the Painfully Alone), artist Kit Malo with Alden Penner (The Unicorns) 1 2, artist Rachell Sumpter, artist Katy Horan 1 2, David Barclay (The Diskettes), artist Drew Heffron, Carl Wilson, artist Tim Moore, Michael Nau (Page France), Devin Davis, Will Sheff (Okkervil River), Edward Droste (Grizzly Bear), Hello Saferide, Damon Krukowski (Damon & Naomi), Brian Michael Roff, Howard Bilerman (producer: Silver Mt. Zion, Arcade Fire, etc.). There are many more to come.)
Posted by Dan at April 4, 2007 2:38 AM