Said the Guests: Aaron Sewards
by Sean
Please note: MP3s are only kept online for a short time, and if this entry is from more than a couple of weeks ago, the music probably won't be available to download any more.
Aaron Sewards is the only guest-artist I've ever discovered in a friend's living-room. There's a lovely Montreal apartment where two cats live. Their names are Jasper and Franklin. Jasper & Franklin most of the time tolerate the presence of my friends Neale and Raffi. And above the couch in the living-room where Jasper & Franklin & Neale & Raffi play, there's a little framed drawing. It makes you long for either a magnifying glass or a larger pair of eyes. The better to see it with, my dears.
This tiny illustration was drawn by the English artist Aaron Sewards. I'm not sure if Aaron has a magnifying glass, or large eyes, or just very small fingers. But he draws eensy-weensy windows, microscopic portholes into the world we already dwell in. His pictures remake our ordinary lives as sites of tenderness, care, and pattern. In his works, the details add up to something. Mixed-up visions and empty rooms become the places where our emotions have the space to breathe.
Aaron played for Raffi the music of Sleeping States months before the rest of the world (myself included) had heard of the man. He shared other secrets too. And so I was eager to ask Aaron to share a few more secrets with Said the Gramophone's readers & writers: to choose a few favourite songs and to make drawings, paintings and sketches that speak to his favour, that express his convictions in ink and line. These are the three songs he chose, and the images he created for each one.
If you can spare a moment, please do leave a comment to tell him what you think.
My Two Toms - "I Was At School"
Aaron Sewards - "I Was At School" (click for full size)
(more of My Two Toms)
Maher Shalal Hash Baz - "Kamakura"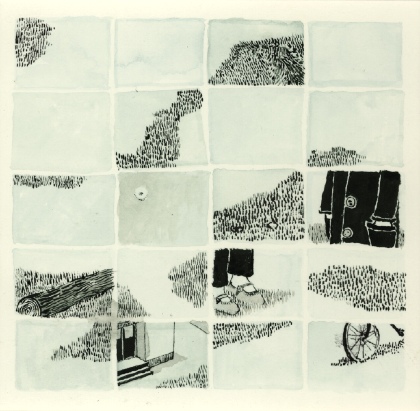 Aaron Sewards - "Kamakura" (click for full size)
(more of Maher Shalal Hash Baz)
François & the Atlas Mountains - "We're an Army"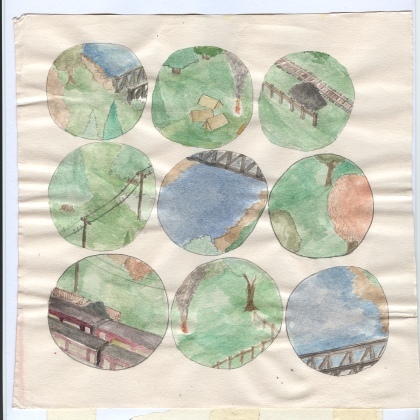 Aaron Sewards - "We're an Army" (click for full size)
(more of François)
[aaron joseph sewards is an artist who lives mainly in bristol in england and sometimes in canada. he works mainly with drawing and sometimes with film and animation. he plays in the band i know i have no collar and sort of ran the label stitch-stitch records. his friend tom is helping make a website for his drawings as such, and that should be on the internet soon. his email address is aaron.run.run@googlemail.com]
(Previous guest-blogs: artist Corinne Chaufour, "Jean Baudrillard", artist Danny Zabbal, artist Irina Troitskaya, artist Eleanor Meredith, artist Keith Greiman, artist Matthew Feyld, The Weakerthans, Parenthetical Girls, artist Daria Tessler, Clem Snide, Marcello Carlin, Beirut, Jonathan Lethem, Will Butler (Arcade Fire), Al Kratina, Eugene Mirman, artist Dave Bailey, Agent Simple, artist Keith Andrew Shore, Owen Ashworth (Casiotone for the Painfully Alone), artist Kit Malo with Alden Penner (The Unicorns) 1 2, artist Rachell Sumpter, artist Katy Horan 1 2, David Barclay (The Diskettes), artist Drew Heffron, Carl Wilson, artist Tim Moore, Michael Nau (Page France), Devin Davis, Will Sheff (Okkervil River), Edward Droste (Grizzly Bear), Hello Saferide, Damon Krukowski (Damon & Naomi), Brian Michael Roff, Howard Bilerman (producer: Silver Mt. Zion, Arcade Fire, etc.). There are many more to come.)
Posted by Sean at December 26, 2007 11:08 AM