Said the Guests: Amber Albrecht
by Sean
Please note: MP3s are only kept online for a short time, and if this entry is from more than a couple of weeks ago, the music probably won't be available to download any more.
When I met Amber Albrecht, I was wearing my suit. I had just been at a job interview. I was visiting my friend Kit, who had an exhibition on, and as we were talking this small woman came in. She had brought fancy markers and, I think, her lunch. Somehow, just looking at her, she seemed like she had a forested spirit. (I don't really know what that means; think birch bark, poisonous berries, moss.) Kit said, Sean, Amber; Amber, Sean. She was there to do some drawing with Kit. And then I went Uhhhh... and asked if she was Amber Albrecht. Because I had just been wandering around the internet, looking upon the works of artists, and one of these artists was a remarkable Montrealer called Amber Albrecht, and Amber's work in particular I had been gawping at, dumbfounded. She made drawings & prints that were beautiful, elaborate, with extremely fierce, strong spirits. I guess that makes them sound like pretty pictures of lions or falcons but no, Amber's art recalled much more serious things. Half-a-Daguerreotype, maybe, of the witch that Hansel once met.
Anyway it's now a long time later and Amber is about to open a solo show at Montreal's Division Gallery, 372 Ste-Catherine, Suite 311. The show is on from February 28-April 4, and the vernissage takes place 3pm-6pm on Saturday. (The gallery will also be open very late for Nuit Blanche.)
She made these pictures for Said the Gramophone, very specially, and it took her a very long time to make them what she wanted. They are illustrations of two songs she loves, by an artist called The Constellations. The Constellations is Jeremy Latta, and he lives in Ottawa, Amber says, and he has made "really nice album covers for his singles project that he's been working on for a while now which required that he make I think nineteen albums and now he's finished".
I hope you like them as much as I do. Please leave Amber your comments!
The Constellations - "Oh, Captive Princess!"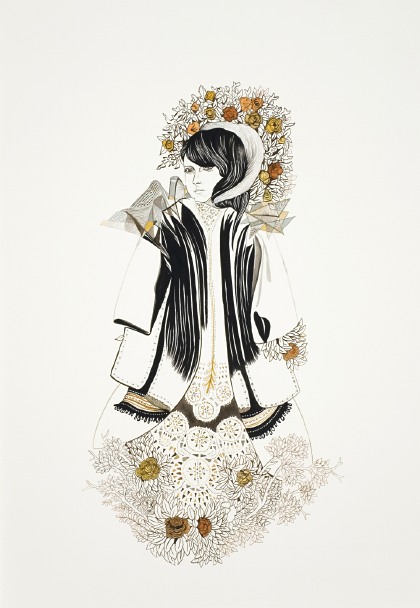 Amber Albrecht - "Oh, Captive Princess" (click for full size)
The Constellations - "Spirit, Come Back!"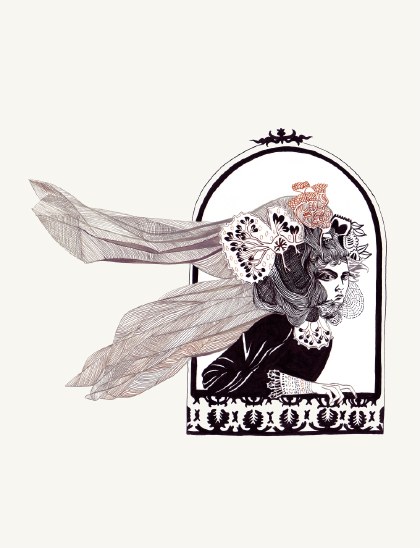 Amber Albrecht - "Spirit, Come Back!" (click for full size)
[Amber Albrecht lives in Montreal, inside a giant bee-hive. Demarcations is showing at the Division Gallery from this Saturday, February 28 until April 4.]

(Previous guest-blogs: The Whiskers, Silver Jews, artist Ariel Kitch, artist Aaron Sewards, artist Corinne Chaufour, "Jean Baudrillard", artist Danny Zabbal, artist Irina Troitskaya, artist Eleanor Meredith, artist Keith Greiman, artist Matthew Feyld, The Weakerthans, Parenthetical Girls, artist Daria Tessler, Clem Snide, Marcello Carlin, Beirut, Jonathan Lethem, Will Butler (Arcade Fire), Al Kratina, Eugene Mirman, artist Dave Bailey, Agent Simple, artist Keith Andrew Shore, Owen Ashworth (Casiotone for the Painfully Alone), artist Kit Malo with Alden Penner (The Unicorns) 1 2, artist Rachell Sumpter, artist Katy Horan 1 2, David Barclay (The Diskettes), artist Drew Heffron, Carl Wilson, artist Tim Moore, Michael Nau (Page France), Devin Davis, Will Sheff (Okkervil River), Edward Droste (Grizzly Bear), Hello Saferide, Damon Krukowski (Damon & Naomi), Brian Michael Roff, Howard Bilerman (producer: Silver Mt. Zion, Arcade Fire, etc.). There are many more to come.)
Posted by Sean at February 26, 2009 10:41 AM