Said the Guests: Corinne Chaufour
by Sean
Please note: MP3s are only kept online for a short time, and if this entry is from more than a couple of weeks ago, the music probably won't be available to download any more.
Corinne Chaufour is a French artist who joins us today at Said the Gramophone with illustrations of three strange, wonderful songs. Each of her chosen songs is misty, blurred, infused with a sense of mystery - and her drawings are cut of the same cloth. Three triptychs of mostly black on white: faces, trees, animals, shapes. Dreams, memories, visions, forebodings. The tiny thumbnails below give no sense of the works; please do click on them to see the larger versions.
On a rainy Wednesday we're very happy to be sharing Corinne's work with you. You can see more at her blog, and it'd be great if you left her a comment here with your thoughts.
Birdengine - "Heads off Dogs"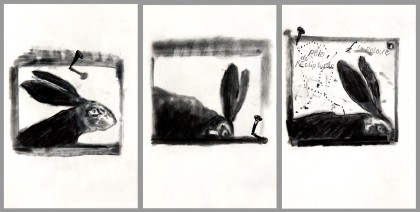 Corinne Chaufour - "Heads Off Dogs" (click for full size)
(buy Birdengine's I Fed Thee Rabbit Water)
Hamilton Yarns - "Paul Miller"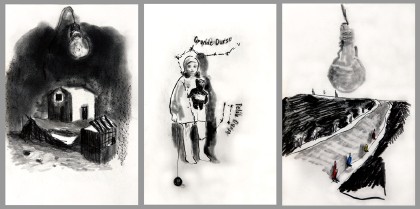 Corinne Chaufour - "Paul Miller" (click for full size)
(buy Hamilton Yarns' Farewell Sparklets & other albums, or download more mp3s)
Bats and Swallows - "Bloom"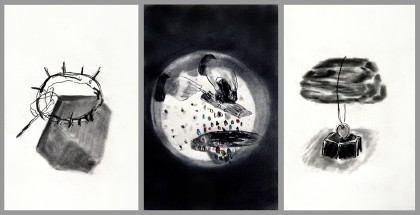 Corinne Chaufour - "Bloom" (click for full size)
(more Bats & Swallows)
[Corinne Chaufour started drawing in early childhood - drawing was long "more important than talking". She studied at the Beaux-Arts in Paris. Today she posts a new drawing every day at her blog. She says: "What I really need in my work are apparitions and not ideas. ... Before a menace or an illusion, something often appears from insignificance.".]
(Previous guest-blogs: "Jean Baudrillard", artist Danny Zabbal, artist Irina Troitskaya, artist Eleanor Meredith, artist Keith Greiman, artist Matthew Feyld, The Weakerthans, Parenthetical Girls, artist Daria Tessler, Clem Snide, Marcello Carlin, Beirut, Jonathan Lethem, Will Butler (Arcade Fire), Al Kratina, Eugene Mirman, artist Dave Bailey, Agent Simple, artist Keith Andrew Shore, Owen Ashworth (Casiotone for the Painfully Alone), artist Kit Malo with Alden Penner (The Unicorns) 1 2, artist Rachell Sumpter, artist Katy Horan 1 2, David Barclay (The Diskettes), artist Drew Heffron, Carl Wilson, artist Tim Moore, Michael Nau (Page France), Devin Davis, Will Sheff (Okkervil River), Edward Droste (Grizzly Bear), Hello Saferide, Damon Krukowski (Damon & Naomi), Brian Michael Roff, Howard Bilerman (producer: Silver Mt. Zion, Arcade Fire, etc.). There are many more to come.)
Posted by Sean at May 16, 2007 12:23 PM