Said the Guests: Michael Krueger
by Sean
Please note: MP3s are only kept online for a short time, and if this entry is from more than a couple of weeks ago, the music probably won't be available to download any more.
You will love Michael Krueger. He is an artist from Lawrence, Kansas whose work pricked my heart like the sharp tip of a coloured pencil. Discovering his drawings was like discovering a forgotten album of photographs - shots from when I was growing up (like I am now). Oh yes, I remember this time. And also this time, banded & prismed. And when this happened. Only then when you go back to the first page to go through these memories again you realize no, they did not happen; these are souvenirs from dream. From when you decided with all your soul to climb that bluff and you packed your pack full of apples and you got up there but there was the woman in the calfskin and the milkmaid looking at that man with eyes full of lust, and the sun was setting, and there was the tree, and earth, and blues.
Which is to say that Michael Krueger draws hidden things as if they are unhidden. His bright lines camouflage his seriousness, like the holster of a gun. The men and women he draws have regrets, footprints, constellations over their heads. There is a face on the back of every penny.
Michael Krueger has a solo exhibition open now at Boston's Steven Zevitas Gallery. It runs through October 17. If I were there, I would be there. I have been working on the drawings for this show for the past year, he says. You can read an interview with Michael at Fecal Face.
Michael has done two drawings especially for us, for Said the Gramophone, giving image to two songs he loves. Please look, listen, look again; and please do leave some comments in the comments. (Thank you so much, Michael.)

Michael Krueger - "Where You Wanna Be", colored pencil, 15" x 20", 2009.
(click image for full size)
inspired by
The Cave Singers - "Cold Eye" [buy/MySpace]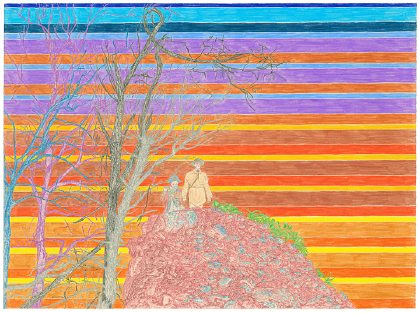 Michael Krueger - "Young Lieutenant", colored pencil, 15" x 20", 2009.
(click image for full size)
inspired by
Drakkar Sauna - "Paul's Letter to St. Job" [buy/MySpace]


I listened to these two songs a bunch while I was working at the Frans Masereel Centrum, Kasterlee, Belgium. I spent a month there this summer with my wife making art and drinking beer.
Belgium is Beautiful!
For me making art and listening to music go hand in hand, and I am grateful to all of the musicians past and present who continue to inspire me.

[Michael Krueger is a father, an artist and a teacher. He was born on January 5, 1967 in Kenosha, Wisconsin. He now lives in Lawrence, KS where he teaches at the University of Kansas. He has given lectures and workshops at over 80 venues including City College in NYC and the Edinburgh College of Art, and one of his images of Thomas Jefferson hangs at Monticello. Michael's new solo exhibition, Endless Colony, is currently on at Boston's Steven Zevitas Gallery.]

(Previous guest-blogs: artist Amber Albrecht, The Whiskers, Silver Jews, artist Ariel Kitch, artist Aaron Sewards, artist Corinne Chaufour, "Jean Baudrillard", artist Danny Zabbal, artist Irina Troitskaya, artist Eleanor Meredith, artist Keith Greiman, artist Matthew Feyld, The Weakerthans, Parenthetical Girls, artist Daria Tessler, Clem Snide, Marcello Carlin, Beirut, Jonathan Lethem, Will Butler (Arcade Fire), Al Kratina, Eugene Mirman, artist Dave Bailey, Agent Simple, artist Keith Andrew Shore, Owen Ashworth (Casiotone for the Painfully Alone), artist Kit Malo with Alden Penner (The Unicorns) 1 2, artist Rachell Sumpter, artist Katy Horan 1 2, David Barclay (The Diskettes), artist Drew Heffron, Carl Wilson, artist Tim Moore, Michael Nau (Page France), Devin Davis, Will Sheff (Okkervil River), Edward Droste (Grizzly Bear), Hello Saferide, Damon Krukowski (Damon & Naomi), Brian Michael Roff, Howard Bilerman (producer: Silver Mt. Zion, Arcade Fire, etc.). There are many more to come.)
Posted by Sean at September 9, 2009 10:29 AM