Said the Guests: Silver Jews
Please note: MP3s are only kept online for a short time, and if this entry is from more than a couple of weeks ago, the music probably won't be available to download any more.
Next Tuesday, June 17th, Lookout Mountain, Lookout Sea by Silver Jews will be released on Drag City Records. It's an incredible album, it might be Silver Jews at their best, or perhaps maybe their best-dressed. It's album with made with true love, out of moments and truths and tall wild tales. We're presenting today an interview with David Berman; one of the best poets and songwriters of my whole life.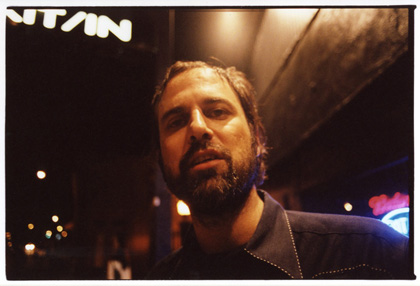 Said the Gramophone: Your poems and songs feel like very different creatures. How do you know what ought to be a poem and what ought to be a song? Do certain stories or feelings lend themselves to one form over the other?
David C. Berman: I think you're imagining the writing process inside out. The text doesn't arrive out of thin air. It's brought forward in the modus operandi. You're either writing a poem or writing a song. If I am in a song writing consciousness, it is a mode I am in for days or weeks, and while in that mode I try to let everything roll as closely by that unfinished song as possible. It is kind of like eyeballing a conveyor belt in your mind.
If I were to set out to write a good-sized poem, I'd "be looking at" anywhere from 5-10 days with no other mental commitments.
StG: David Lynch doesn't put "chapters" in his DVDs, because he doesn't want to encourage watching his movies in parts. If this is true, he probably has a very certain idea about how his movies "ought" to be experienced, which I think is a totally reasonable part of the process of creating a whole piece of art. Is there a certain way you imagine as the best way to experience this album?
DCB: Hmm. I think it has to be heard more times than other albums for it's wholeness to come out.
I'm thinking of records with "Play Loud" or "meant to be played loud" somewhere on the artwork. It always seemed a tinge futile. My feeling was always something like, "no, i will not play you loud".
I could print "Absorb Intently for Long Time Before Re-selling" on my products, but I'm afraid of pushing others around..
StG: Could you tell me about one of your favourite songs - by someone else? A song that evokes for you very strongly a story, a memory or a feeling?
DCB: I was just in Britain and I was thinking about that Pink Floyd song "Another Brick in the Wall", how I always hated it as a kid because the guys who liked Pink Floyd and AC/DC and whoever, were the worst people on the landscape. Anyway, I was a very shy kid, and I was completely intimidated by these assholes who were anywhere from 15-18 when I was 10-13, and i would find their campfires in the forest after they were gone. So anyway I didn't like this song especially for the sentiment "hey teacher, leave that kid alone", which struck me as a dirtbag bias against school, an element that has firmly taken root in redneck culture since then. My inner attitude was "shut up pink floyd. You don't speak for me. I want to learn."
I also despised my sister's 45 of Rod Stewart's "Da Ya think im sexy" for being mispelled.
StG: When I listen to "Candy Jail", I imagine the song's hero is innocent, but still appreciative of how nice the jail is. This isn't really a question, I guess, but it's there if you want to respond to it.
DCB: I guess he seems like me and most of the people i know who recognize the unhealthiness and emptiness of pop culture but make a silent deal with themselves to indulge in their own gluttonies anyway, while waiting around for things to change. The friend who died was perhaps unwilling to wait around unashamedly.
thanks daniel.
best wishes, DCB
[Pre-Order Lookout Mountain, Lookout Sea]
(Previous guest-blogs: artist Ariel Kitch, artist Aaron Sewards, artist Corinne Chaufour, "Jean Baudrillard", artist Danny Zabbal, artist Irina Troitskaya, artist Eleanor Meredith, artist Keith Greiman, artist Matthew Feyld, The Weakerthans, Parenthetical Girls, artist Daria Tessler, Clem Snide, Marcello Carlin, Beirut, Jonathan Lethem, Will Butler (Arcade Fire), Al Kratina, Eugene Mirman, artist Dave Bailey, Agent Simple, artist Keith Andrew Shore, Owen Ashworth (Casiotone for the Painfully Alone), artist Kit Malo with Alden Penner (The Unicorns) 1 2, artist Rachell Sumpter, artist Katy Horan 1 2, David Barclay (The Diskettes), artist Drew Heffron, Carl Wilson, artist Tim Moore, Michael Nau (Page France), Devin Davis, Will Sheff (Okkervil River), Edward Droste (Grizzly Bear), Hello Saferide, Damon Krukowski (Damon & Naomi), Brian Michael Roff, Howard Bilerman (producer: Silver Mt. Zion, Arcade Fire, etc.). There are many more to come.)
Posted by Dan at June 12, 2008 12:19 PM