Help Keep the Gramophone Saying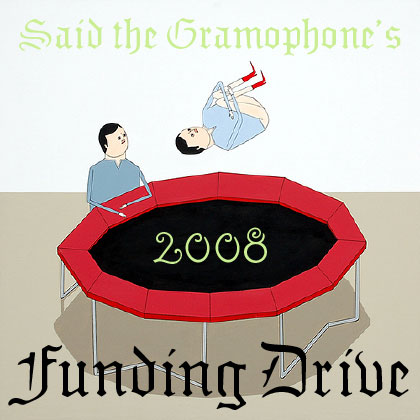 About five years ago, I started writing something called Said the Gramophone. And now here we are today, Dan, Jordan and me, and all of you, staring at this page in pistachio-green.
Last year the three of us played you more than 500 songs and wrote more than 250 posts. Each day we threw one, two, three hours of our lives at this silly, sometimes splendid thing.
It doesn't take much more than that to keep all this going. But it does take something. (That something is: money.)
Said the Gramophone does not take advertising. That's just something we decided, though sometimes it seems full of folly. Instead, we rely on the generosity of our readers to pay our hosting bills. Once a year, we depend on you.
If you enjoy this site, please simply donate. Because listen - Said the Gramophone is never going to be the biggest mp3blog in the world. We are too set in our weird, woolly ways. We try to do just one thing - writing with spirit about the songs we love, - and to do that one thing well. Our audience is you. That's it. There's no one else. You small, strange gang. We cherish our rare contacts - and every March we ask for your help.
Click here to donate to the 2008 Said the Gramophone Funding Drive. [Funding Drive complete, in a matter of hours! Thank you, thank you, thank you - you've no idea.]
(There are also modest gifts for some people who donate.)
Some reminders: In the past year we introduced you, perhaps, to bands such as Yeasayer, Miracle Fortress, Group Inerane, The Luyas, TD Reisert, the Wrong Trousers, Hot 8, Sleeping States, the Spiritualaires, Ezra Furman & the Harpoons, um Fleetwood Mac, Jay Bharadia, Nico, Times New Viking, Clues, Sandro Perri, The Phonemes, Katie Dill, Orillia Opry, Ravens & Chimes, Kyla D, Vampire Weekend (as a commenter notes, we were slow to notice VW but maybe you were too) and Colourbook. We composed fake letters and short stories. We thought about Carl's Celine Dion book, and Dan made a puppet video. "Jean Baudrillard" wrote a guestpost, and Aaron Sewards painted one. We shared our 50 favourite songs of the year. We threw our first concerts, as part of Pop Montreal, and we held our biggest-ever contest, the Wonderful Video Contest.
We did quite a lot. Thank you so much for your patience and your kindness, for all your comments and your clicks. For telling your friends about us, or for not telling your enemies. We understand that not everyone can afford to donate to a silly website. Regardless of dollars or cents, pounds or zloty, thank-you thank-you thank-you all again for continuing to make this one of the most rewarding things in our lives.
(Last year, a few of you paid to take us out to a fancy dinner. This was a very cool thing. We wrote about it in three posts: 1 2 3. The rewards of Said the Gramophone are in the work itself, in your occasional comments & emails. Buying us a meal isn't a donation to the site - it's a present, a kindness, something unearned but offered. But oh my god, it was such a fucking great gift you gave us, and we enjoyed it so much. So however crass and embarrassed it makes us, we can't restrain ourselves - if you would like to take us out to a fancy dinner again, um, click here to contribute to that. [Even the goal for this was reached. Thank you so much.])
---
Django Reinhardt - "Brazil". Here is a man with eight working fingers playing one of my favourite songs. Some people call him "The Gypsy". Me, I call him "Django" because there is only one Django in my life. If I were friends with Django I would take him to Olimpico for a coffee. We'd both order a biscotti - impromptu, unrehearsed, just both of us ordering an unanticipated (almond) biscotti. Then we'd sit with our coffees, our winter hats on the table in front of us, and we'd clink our biscotti like they were glasses. Like we were saying cheers. "Django," I'd say. "Sean," he'd say. And then I would say: "Here's to you."
Here's to you.

[the painting above is, of course, by Matthew Feyld. Maybe we introduced you to him, too. He has a show on now at the Cinders Gallery, in Brooklyn.]
Posted by Sean at
12:05 AM
|
Comments (11)