Said the Guests: Bear in Heaven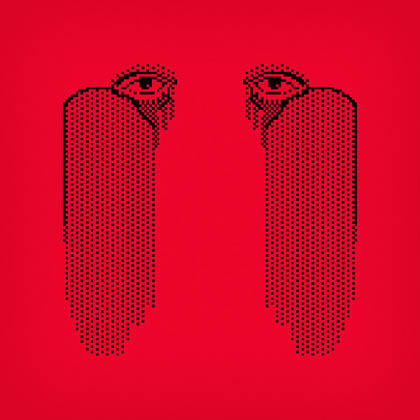 The first person I ever heard utter Bear In Heaven's name was the French filmmaker Vincent Moon. He had been in New York recently, and he told me "zey were amazing". Noisy and ripe, he said, or those are the images I took away with me. At the time, Bear In Heaven were supporting their first album, 2007's Red Bloom of the Boom. I listened, I watched Vincent's Take-Away Show with them, but the band's songs were still very diffuse - more noise that ripeness, perhaps. And so I waited for the boom to fully bloom.
Fast forward two years, and Bear In Heaven's new record arrives on my doorstep. Beast Rest Forth Mouth is regal, filthy and magnificent; it is blurred, burred and precise. Songs that sing, that catch & echo, but still submerged in that slick of groan, shatter and pixelbitten heave. Which is to say, it's a subway roar and bright red plum. It's everything Vincent promised.
Earlier this week, I wrote about two songs from Beast Rest Forth Mouth. Go listen, go buy. And now, Adam Wills, the man Wikipedia calls Bear In Heaven's guitarist, has answered my plea to share some songs he loves - to offer them up, and tell them why & how they make his body chime.
Thank you so much to Adam for joining Said the Gramophone as one of our rare guest-posters. Readers! Please read, imbibe, and leave a comment! Oh & buy the album, do.
Musically, this is the crossroads for us as a band. In the circle of music we share, spin, love, and waste hours yapping about , this track, well, this whole album, has got to be at the epicenter. Bringing in just about every element and every genre that we adore. It's dubby, it's weird, it's catchy as all hell.. It's truly a perfect song. Just totally infectious. Each musical child birthed by This Heat sits high on all of our charts. Flaming Tunes, The Camberwell Now, and This Heat itself, are strong and apparent influences on us. Now, perhaps I'm wrong for speaking for the four of us. But to me, it's always been so romantic and strangely appealing to be cherished long after our lifespan as a band. I've certainly noticed and contributed to overly hyped current bands that just don't exist nor hold my interest 6 months later. This Lifetones record is a wonderful example of unrecognized genius, this song does NOT sound 25 years old. I was extremely tempted to post another song from the album, the title track, "For A Reason".. simply for that classic dub mantra "Live the life you love, love the life you live.".. That's something I try to wake up with everyday. Though, certainly, "If I can learn from you, to learn from me, to learn from you.." is a lesson we should all practice.

R. Stevie Moore - "Why Can't I Write a Hit?".
Now THIS is a question every band must ponder. R. Stevie Moore, is just, hmm, spectacular, and this song in particular, aside from being hilarious, serves as the perfect theme song for our band. Since we first started getting reviews, it sure seems no one knows what exactly we are trying to do, what kinda of band we are, and just where to place us. Albeit positive reviews, most start with some variation of "How do I classify this band?"... Though extremely proud that most can't pin point our influences and inspirations musically, maybe we're the only 4 on the planet that truly "gets" us. Often annoying, yet always encouraging. Now you can reflect back to my rant over Goodside and perhaps 30 years from now, some futuristic reflection of myself will realize how brilliant we really were? That's something that would make us all smile. But for now, I'll take some pleasure in R. Stevie's gurgled vocals slapped on the end of an otherwise perfect pop song "The songs are too weird, the songs are too weird, the songs are toooo weeeeiirrrdddd"

The Walker Brothers - "The Electrician".
Scott Walker. I love you. You make me feel dark, alive, gay, cooler than cool and I can never get enough. I think this record by now is pretty well circulated, but it's from the Walker Brothers very last album. Holy shit. From the minor atonal string drone that sits underneath it all (Same thing I loved from the very first Scott song I was played "It's Raining Today") Scott composed the first 4 songs off this record, and I don't think many make it to the 5th track, these songs are THAT good. Baby it's slow, when lights go low, there's no help, no. You guys can keep your Morrissey, Scott Walker is my God. Hungover morning commutes, late night red-wine fueled "karaoke" sessions, and overheated slow dances, Scott has suited each situation so well.

Bill Fay - "Tomorrow, Tomorrow, and Tomorrow".
I'd very much like to dedicate this song to a very dear friend. As I type this, she is struggling with her battle with cancer, and I can't quit thinking about her. Her time here spent on the mortal plane and her role beyond. I wish for her to carry with her, all in this world that makes her happy, Tomorrow, Tomorrow, and Tomorrow. I love you. We all do.

[Adam Wills is one quarter of Bear In Heaven, a band based in New York City. Their second album, Beast Rest Forth Mouth, is due next week on Home Tapes. Listen to their songs at MySpace, join them on Facebook, and see them live this month across parts of the American south and northeast. // Click here to pre-order their terrific new record.]

(Previous guest-blogs: artist Michael Krueger, artist Amber Albrecht, The Whiskers, Silver Jews, artist Ariel Kitch, artist Aaron Sewards, artist Corinne Chaufour, "Jean Baudrillard", artist Danny Zabbal, artist Irina Troitskaya, artist Eleanor Meredith, artist Keith Greiman, artist Matthew Feyld, The Weakerthans, Parenthetical Girls, artist Daria Tessler, Clem Snide, Marcello Carlin, Beirut, Jonathan Lethem, Will Butler (Arcade Fire), Al Kratina, Eugene Mirman, artist Dave Bailey, Agent Simple, artist Keith Andrew Shore, Owen Ashworth (Casiotone for the Painfully Alone), artist Kit Malo with Alden Penner (The Unicorns) 1 2, artist Rachell Sumpter, artist Katy Horan 1 2, David Barclay (The Diskettes), artist Drew Heffron, Carl Wilson, artist Tim Moore, Michael Nau (Page France), Devin Davis, Will Sheff (Okkervil River), Edward Droste (Grizzly Bear), Hello Saferide, Damon Krukowski (Damon & Naomi), Brian Michael Roff, Howard Bilerman (producer: Silver Mt. Zion, Arcade Fire, etc.). There are many more to come.)
Posted by Sean at
11:08 AM
|
Comments (4)