GUIDE TO POP MONTREAL 2009 (FROM SAID THE GRAMOPHONE)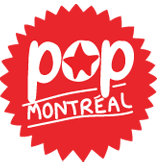 Starting this Wednesday is Pop Montreal, one of the finest music & arts festivals in all the world, at least if you like the things we do. It is wild and woolly, joyously diverse, deep and wide and rich and poor and set in the heart of this great city. More than 400 bands, plus films, workshops, lectures, art installations, spread across dozens of venues in Quebec's largest city. Carefully curated, with an emphasis on showing you something new (even if that something is old). This is a festival with a who's-who of indie up'n'comers - but that's a side-effect, a symptom. It's not the fever.
You should come. If it's too late for this year, come next year. And for all those who will be here, here are some suggestions of what you should see. I know but a small fraction of what is playing here, know of a larger fraction, but still - there is much I have missed. Take everything with seas of salt.
Last year, I did a similar guide, but I also wrote up my adventures after the fact, telling the tale of my Pop 2008, for McSweeney's. That will give you a flavour of the kind of things I like. The kind of things I do not like, I have left out of this list. (Even acts that many others do like, eg: Butthole Surfers.)
Visitors to the city, two suggestions: (a) accommodation via Pop Hostel; (b) transportation via Bixi.

How to Use This Guide
I suggest you flip between this guide and the official Pop program, for band descriptions (much more convenient than the website). Hit websites/myspace for audio samples. Build yr schedule by making an account on Sched, print it out, pocket it.

Tickets and Passes
To attend a concert at Pop, you can either buy a ticket or use a pass to get in. Only a certain number of pass-holders are allowed into every show. This means that for extremely popular shows, unless you arrive long before the first act, a pass is not likely to get you in. (Whereas buying a ticket always guarantees entry.)
As a result, if you plan to just attend just a few big shows over the course of Pop's five days - buy tickets. On the other hand, if you wish to enjoy the festival as it is meant to be enjoyed, discovering tons of new sounds (rather than just the big names), I highly recommend a pass. There are so many treasures to be uncovered here, and many of the bands that were "small" one or two years ago are the hot tickets today.
Much of Pop is completely free. The terrific craft and record fairs, all weekend, don't charge admission. There's a free barbecue on Saturday, free concerts (by great acts) in the Phonopolis Record Store basement on Thursday, Saturday and Sunday. And two of Pop's greatest gifts, ART POP (a series of art installations around the city) and SYMPOSIUM (a conference with fun, scintillating panels/lectures/workshops) are entirely gratis. Symposium's events include a 3-hr jam workshop with Faust, room-sized theremin demos, DJ-ed lectures on world music, even a screening/lecture by one of my favourite filmmakers, Take Away Shows' Vincent Moon. A lot of Pop attendees forego Art Pop and Symposium - but honestly their (free!) programming makes up some of the festival's finest stuff.
Oh and there's FILM POP! Movies about music. Most of these screenings cost money regardless of whether you have a pass.

Recommendations over several days

All week

ART POP at the Notman House: Dominique Sirois's office-turned-nightclub, Jessica Campbell & Bridget Moser's pinata room, Kim Kielhofner's extraordinary video tent, drawings by Jean-Philippe Harvey & Adam Bergeron.
ART POP at Espace Reunion: Brendan Reed's curious video, Paul Warne's optical illusions, Lalie Douglas's edible creatures.

Wed, Sept 30 - Sat, Oct 3

ART POP at Articule Gallery: Matt Shane and Jim Holyoak's mesmerising gigantic wall drawings.
The Happiness Project at 5202 Hutchison (20h every day). Visual artists bring to life Charles Spearin's wonderful Happiness Project album in this installation project.

Sat, Oct 3 - Sun, Oct 4 (11h-19h)

PUCES POP craft fair at Eglise St-Michel
Record sale & gear swap at Ukrainian Federation

Recommendations day by day
Every day, I begin by describing my plans for that evening. But there are gazillions of Pop shows, much more than any one person can do. Next, I break down some suggestions into three categories:
| | |
| --- | --- |
| Staying put: | For people who want to spend the evening in one place. |
| Taking chances: | Double or nothing - the shows that will either be transcendent... or terrible. |
| Sure bets: | Good sets, all but guaranteed. |
And then a list of the day's highlights, as far as I can tell. I highly recommend everything on these lists, but everything listed in bold is completely CAN'T MISS.
This list has been made using the updated Pop schedule of September 25. All dates/times are as best as I know. [Update September 30 - All Zoobizarre shows have been moved to Playhouse or Saphir, and their Thursday set-times changed.]

Wednesday, September 30
Happily for my weeklong endurance, Wednesday will be a quiet night. Carl Spidla is one of the country's most promising singer-songwriters (he still hasn't released an album), and friends in London, ON have highly recommended Olenka & the Autumn Lovers. So I will start with the one, and follow with the other. And then I'll probably close the evening with the garage-pop line-up that's playing Sala all night.
| | |
| --- | --- |
| Staying put: | Jay Reatard, Box Elders and the rest of Sala's Shattered recs showcase. |
| Taking chances: | Olenka & the Autumn Lovers. And Polaris nominees Bruce Peninsula, beloved in Toronto, who disappointed me last year - being less than the sum of their influences. But they could yet win converts. |
| Sure bets: | My People Sleeping's glimmering folk-pop, the Youjsh's Ellington klezmer, Carl Spidla's gauzy songwriting. |
20h00 - My People Sleeping (opening for Amy Millan) @ Ukrainian Federation
22h00 - Carl Spidla @ Cagibi
22h30 - The Youjsh @ Il Motore
23h30 - Bruce Peninsula @ Il Motore
23h30 - Olenka & the Autumn Lovers @ Barfly
23h45 - Box Elders @ Sala Rossa
00h30 - Jay Reatard @ Sala Rossa

Thursday, October 1
Thursday night is a feast. I would be perfectly happy going to see Clues and Micachu - two furious, weird, jubilant pop acts. But alas, I will not be at Cabaret for those sets. No, I will be at Metropolis, seeing Fever Ray. Fever Ray is Karin Dreijer Andersson, one half of Swedish haunted house group The Knife. Her show is the second most expensive production Pop Montreal has ever put on - featuring costumes, masks, lasers, smoke and miracles. This will be eerie & possessed, one of Fever Ray's only performances on this continent. The tip from previous shows is that you should stand close to the front. It's apparently kept so dark that it can be hard to see.
After Fever Ray I could try to hoof it and catch Clues, but I'm more likely to catch something smaller. Silver Starling/Young Galaxy at Il Motore, or Hooded Fang at 3 Minots. I will undoubtedly be ending the night with Sister Suvi - one of the city's most exciting and underrated acts - before dropping by Montag's CATALOGUE, a multi-hour jam by musical luminaries playing vintage synths.
| | |
| --- | --- |
| Staying put: | The free afternoon show at Phonopolis; after that, yes, either Clues and Micachu & the Shapes at the Cabaret, or Fever Ray at Metropolis (I don't know anything about her opener, Vuk). Note: Anyone hoping to get into Fever Ray or Micachu using a pass: good luck. |
| Taking chances: | Diamanda Galas's lecture on HIV/AIDS will be... something. Montag's CATALOGUE offers great potential for freakout - it's an easy drop-in, going late (til 3am). Besides that, the night's slew of smaller bands - particularly Yukon Gold, Balacade, Drew Danburry and Hooded Fang - whom I've never heard live but long hoped to. |
| Sure bets: | Fever Ray is a sure bet. So is Sister Suvi (an indie-rock trio with members of Tune-Yards and Islands). And absolutely Young Galaxy, playing vast and fiercely yearning pop. |
13h-14h30 - Symposium talks on canadian music funding @ Espace Reunion
15h-18h - Tune-Yards, Adam & the Amethysts, Brave Radar, Dearling Physique @ Phonopolis [free!]
18h - Diamanda Galas lecture @ Concordia University H-110
19h - Think About Life @ Maison Radio-Canada
19h - Ceska Rapublika (doc on czech rap) @ Cinema du Parc
20h30 - Nutsak (opening for Butthole Surfers) @ Olympia
20h30 - PDF Format @ Casa del Popolo
21h - Construction & Destruction @ Jupiter Room
21h - Cotton Mouth @ Green Room
21h - Drew Danburry @ Quai des Brumes
21h30 - Fever Ray @ Metropolis
21h30 - Mono @ La Tulipe
21h30 - Supr Fossl Powr @ Balattou
22h - Balacade @ Playhouse Saphir Zoobizarre
22h - Yukon Blonde @ Divan Orange
22h30 - Micachu @ Cabaret
23h - Silver Starling @ Il Motore
23h - Mavo @ Jupiter Room
23h - Montag presents: CATALOGUE @ Espace Reunion
23h10 - Brides @ Casa del Popolo [big Blocks session]
23h30 - Clues @ Cabaret Juste Pour Rire
00h - Hooded Fang @ Les 3 Minots
00h - Young Galaxy @ Il Motore
00h - Cousins @ Cagibi
00h - Soul Clap Dance-Off @ Green Room
01h10 - The Intelligence @ Sala Rossa
01h30 - Sister Suvi @ Balattou

Friday, October 2
On paper, Friday is probably Pop 2009's best day. I'm going to start by attending Symposium at 4pm - because I'm speaking on a panel. At 7pm, Tune-Yards' show is likely to be a highlight of the year - one of Gramophone's favourite artists, always stupefying, now tour-practiced, newly lionized in Europe (opening for Dirty Projectors), playing a farewell-to-Montreal show with friends and who-knows-what gallery-budget tricks up her sleeves.
After that, either Adam & the Amethysts, Yo La Tengo, Snailhouse, or Avec Pas D'Casque/Destroyer. And then to wrap up the evening I highly recommend the line-up at Le Milieu, which Said the Gramophone is presenting. I'm so keen to see Daredevil Christopher Wright (whose Bon Iver-produced debut, indie folk & doo-wop & psych-pop, thrilled me) and the Mittenstrings (who play tough, beautiful folk music).
| | |
| --- | --- |
| Staying put: | Go see Tune-Yards. There's no question. And after that, disperse like dandelion seeds. Take your pick: Destroyer etc, Yo La Tengo etc, Snailhouse etc - all are outstanding acts, joined by other outstanding acts. Said the Gramophone's Le Milieu gig, with the Mittenstrings and Daredevil Christopher Wright, is the night's secret gem. And if you're one of the lucky few with tickets to Sufjan Stevens/Cryptacize (it's totally sold out), enjoy! |
| Taking chances: | Vintage soul singer Lee Fields, suporting a new record; Espace Reunion's experimentalism (the impromptu "Anthony Von Seck" group, followed by psych-jammer Sam Shalabi) could be revelatory; and Woodpigeon - so long as Mark brings some friends - will be terrific. |
| Sure bets: | I love every band that is listed below in bold. And come see me on the panel at 4pm! |
13h-20h - free barbecue @ Notman House
16h - Book This Face (internet music thing panel featuring Sean Gramophone) @ Espace Reunion
17h30 - Roxanne Shante lecture @ Espace Reunion
19h - Tune-Yards - Musée d'art contemporain
20h - Ghost Bees @ Ukrainian Federation
20h - Video Tape @ Jupiter Room
20h - Gobble Gobble @ Saphir Zoobizarre
20h10 - Shapes & Sizes (opening for Sufjan Stevens) @ Cabaret
20h45 - Cryptacize (opening for Sufjan Stevens) @ Cabaret
21h - Adam & the Amethysts @ Green Room
21h - Avec pas d'casque @ Ukrainian Federation
21h - Snailhouse @ Divan Orange
21h - Yo La Tengo @ Club Soda
21h45 - Sufjan Stevens @ Cabaret
21h30 - Duchess Says (opening for Teenage Jesus & the Jerks) @ Le National
22h - An Albatross @ Club Lambi
22h - Destroyer @ Ukrainian Federation
22h - Woodpigeon @ O Patro Vys
22h - Polipe @ Saphir Zoobizarre
23h - Rah Rah @ Bar St Laurent II
23h - Daredevil Christopher Wright @ Le Milieu
00h - Anthony Von Seck & the Exiles (ft. Basia Bulat, Chris Burns, Elizabeth Anka Vajagic, members Silver Mt Zion, etc.) @ Espace Reunion
00h - Chain & the Gang @ Club Lambi
00h - the Mittenstrings @ Le Milieu
00h - No Gold @ Divan Orange
00h - Lee Fields and the Expressions @ Sala Rossa
00h - Shapes and Sizes @ O Patro Vys
00h05 - Receivers @ Petit Campus
01h - Sam Shalabi @ Espace Reunion

Saturday, October 3
First thing on Saturday: Puces Pop and the Pop Record Fair. Oh, and brunch. And then I'm going to zip up to Espace Reunion for two fascinating-looking lecutres - one on "indie culture" worldwide, the other "DJed lectures" (meaning lectures with audio samples) on street music from across the globe.
Starting at 10pm, I'm going to bask in Snowblink and Francois Virot at Le Gymnase (another StG-presented show). I heard Snowblink for the first time at this year's Sappyfest, adoring their restrained, indie folk. And though France's Francois Virot is not the name he will yet be, he's an astonishing solo act - like Animal Collective via Jose Gonzalez - and his appearance at Pop is one of my must-sees.
Later I will either check out Black Wire Red Wire, Thee Oh Sees or Greg Macpherson - and finish things off with DJ/Rupture's, Cadence Weapon's, Poirier's or Think About Life's dance parties.
| | |
| --- | --- |
| Staying put: | Phonopolis's all-day concerts; Snowblink, Francois Virot and friends at Le Gymnase; or Thee Oh Sees and friends, playing noisy & fucked-up pop, at Sala. |
| Taking chances: | Jerusalem In My Heart are extraordinary, and they are opening for someone singular: Diamanda Galas. But it might feel a little... long. |
| Sure bets: | Several "local" shows - Parlovr/Think About Life at Espace Reunion; Witchies at L'Escogriffe; and The Luyas, perhaps my favourite band in Montreal, playing from their upcoming second album. But if you like singer-songwriters, I can't recommend Winnipeg's Greg Macpherson highly enough - a heartbreaker, song-killer, bridge-buster in the vein of Billy Bragg or Bruce Springsteen. |
12h-15h - Faust workshop @ Espace Reunion
15h-18h - Clues, Valleys, Ryan Power, Nutbrown @ Phonopolis [free!
15h - Indie Culture from Stockholm to Sao Paolo lecture @ Espace Reunion
15h - The Family Jams (psych-folk doc) @ Cinema du Parc
17h-19h - DJed Lectures: World Street Music (ft. DJ/Rupture, Valeo, Brian Simkovitz)
20h30 - Black Feelings (opening for Faust) @ Ukrainian Federation
19h - Goblin Market short film @ Espace Reunion
19h - Sufjan Stevens' The BQE film @ Espace Reunion
20h30 - Black Feelings (opening for Faust) @ Ukrainian Federation
21h - Jerusalem in My Heart @ Theatre Outremont
21h30 - Faust @ Ukrainian Federation
21h45 - The Hoa Hoas @ Bar St Laurent II
22h - Snowblink @ Gymnase
22h - Diamanda Galas @ Theatre Outremont
22h - Tanlines (opening for Os Mutantes) @ Le National
22h - Rah Rah @ Les 3 Minots
22h30 - Green Go @ Petit Campus
23h - PS I Love You @ Jupiter Room
23h - BRAIDS @ Saphir Zoobizarre
23h - Forest City Lovers @ Casa del Popolo
23h - Golden Triangle @ Sala Rossa
23h - Valleys @ O Patro Vys
23h - Lemonade @ Club Lambi
23h - Zeroes @ Il Motore
23h - Silly Kissers @ Divan Orange
23h45 - Parlovr @ Espace Reunion
00h - Francois Virot @ Gymnase
00h - Witchies - L'Escogriffe
00h - The Fresh & Onlys @ Sala Rossa
00h - The Luyas @ Casa del Popolo
00h30 - Poirier ft. Face-T @ Club Soda
01h - Thee Oh Sees @ Sala Rossa
01h - Mixylodian @ Saphir Zoobizarre
01h - Red Wire Black Wire @ Gymnase
01h - Cadence Weapon @ Divan Orange
01h - DJ/Rupture @ Club Lambi
01h - Greg MacPherson @ Les 3 Minots
01h20 - Think About Life @ Espace Reunion

Sunday, October 4
On Sunday we will have to measure our hangovers. If mild, perhaps I will take to the Piknic Electronik at Parc Jean Drapeau (I'm always sad to miss Valeo/Khiasma, one of my favourite DJs). If severe, the afternoon offers strange unveilings at Espace Reunion: first an animatronic band built by Max Lawrence, then the long-gestating theremin-as-big-as-a-room. I think I'm also signed up for a "learn how to make a mini-theremin" workshop. Come evening time, I will be at the screening by Vincent Moon - he visited last year and honestly it was one of the best things I saw, these films on a big screen. And then I will skim down to Sala Rossa to see Little Scream and Woven Hand (possibly popping across the street to peep White Pine Waltz).
| | |
| --- | --- |
| Staying put: | Katie Moore and Iris Dement for folk-fans with a taste for twang; Little Scream's haunting solo songs followed by Woven Hand's brimstone folk; Phonopolis's all-day concerts (especially The Luyas and Parlovr). |
| Taking chances: | White Pine Waltz are a new configuration of great players - members of Arcade Fire and Silver Mt Zion, not to mention saxophonist Colin Stetson, who offered one of the best shows of Pop 2008. |
| Sure bets: | Vincent Moon's films and talk will inspire you to make something. |
12h30 - Dan Iglesia's Ghost Jockey 3d art installation @ Espace Reunion
13h45 - Vernissage: Kimberlite and the Pipes (animatronic band by Max Lawrence) @ Espace Reunion
13h45 - How to Build a Home Studio lecture (Wolf Parade's Arlen Thompson) @ Espace Reunion
13h-21h - Valeo @ Piknic Eletronik
15h - Room-size Theremin keynote @ Espace Reunion
15h-18h - Parlovr, Luyas, Vincat, Ryan Power sings karaoke @ Phonopolis [free!]
20h - Katie Moore (opening for Iris Dement) @ L'Astral
20h - Tony Ezzy Gets a Job film @ Green Room
20h - Screening/lecture by Vincent Moon @ Espace Reunion
21h - Iris Dement @ L'Astral
21h30 - Little Scream @ Sala Rossa
22h - White Pine Waltz (Sarah Neufeld, Colin Stetson, Becky Foon & more) @ Casa del Popolo
22h - Ariane Moffatt @ Ukrainian Federation
23h30 - Woven Hand @ Sala Rossa
More updates as the week progresses... (You should follow me on Twitter.)
Posted by Sean at
7:00 PM
|
Comments (3)