Said the Guests: White Hinterland
White Hinterland are now two. The group that began as Casey Dienel's reinvention has become a full-moon magnolia arising of something new. Dienel began making music in the most familiar songwriting mold - she played piano, sang stories. We were smitten with her then, inviting her to play Said the Gramophone's first (and, to date, only) concert series. In 2008, she released Phylactery Factory, her first album under the name White Hinterland. I wrote the press release. We wrote about her here. With the change in moniker, Casey's music changed too. The best way to describe it is to ask you to imagine yourself in a warm cottage at night, filled with friends; and then imagine the lights go out; and imagine the boats on the lake, invisible.
The music was even darker, more confusing, on the Luniculaire EP - a collection of French songs, including covers of Serge Gainsbourg and Francoise Hardy. It is a hot, free record, but I am not sure it fully works. These things take time.
On Kairos, released soon, available now - everything has coalesced. No, wait. The verb tense feels wrong. This takes the present tense: it is open, shearing, a coalescence. Casey spent the last year learning how to self-record, literally relearning how to sing. She is joined now by Shawn Creeden, a painter and musician who lends tape-loops and bonemarrow bass to White Hinterland; who has helped turn the group's texture to black and silver. Kairos is a gorgeous, minimal, awakening album. Listen to "Amsterdam" (written about here), listen to "Icarus". Buy the album.
Casey and Shawn have been so kind as to do what we do, for a day, and to write about some songs they love. Please make them welcome (and leave a few words behind!) -- Sean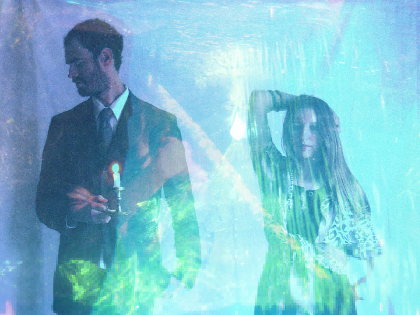 Hakurotwi Mude, Cosmas Magaya, Ephraim Mutemasango - "Nhema Musasa" [buy]
Recorded by ethnomusicologist Paul Berliner in 1972, this is a "standard" among the Shona people of Zimbabwe. Its title means "temporary shelter", and I am always amazed and moved when I listen to it. Structurally built over intertwining polyrhythmic patterns, repeating as long as they need to, and accompanied by simple gourd percussion, the music is ceremonial and makes me want to dance or go for a long walk in the sun. From the get-go there is a slightly woeful color to the tune, then when Hakurotwi Mude comes in with the vocals it takes on a wholly more sweeping, deeply sorrowful, and plaintive weight. Yet the song is still not without moments of redemption and celebration. I once heard a story about how American country musicians are wildly popular in Africa, and play to huge crowds of thousands of people in places like Nairobi, Kenya. The attraction is to both the universal stories of heartache but also to the long, lonesome yodeling style of singing, and it's easy to draw parallels between Hank Williams and songs like this one. -- Shawn

Guillaume de Mauchaut- "Messa de Notre Dame : Gloria" [buy
A singer without confidence is like a body without its spine: nothing stands up. I spent much of last winter immersed in 13th and 14th century choral music because there is nothing to hide behind in these works. A friend once loaned me her copy of the Bulgarian Girl's Choir singing on tape and I had to give it back to her because I couldn't drive and listen to it at the same time. It was too much. Too powerful. Voices are powerful things.
It's not only the voices themselves but the balletic manner they can move together that stirs me. When it works, it's like choreography. For this reason, I think my favorite piece of music from this time is Guillaume de Mauchaut's Messe De Notre Dame. I return to it every so often since I first encountered it in college (same as I do with Debussy's String Quartet in G major, or many pieces by Charles Ives). Every visit unveils something new.
The Gloria of the Mass begins as a call and response. A lone tenor intones before the choir makes an aggressive entrance that sounds not unlike the muezzin calls at an Islamic Mosque. The piece is punctuated by sporadic isorhythmic passages, some of which (as in the Amen) ricochet with hocket (when the top two voices sing independent melodies that lock together rhythmically - a solid modern example would be the staggering way Amber, Angel, & Haley sing at the end of Dirty Projectors' "Remade Horizon"). There are moments of heavenly improvisation, and yet there is a haunting, earthly quality to it that rattles me to the core. It is all flesh and bones, full of longing. -- Casey

Sam Buck Rosen - "Cooking With Gas" [buy]
To get the full effect of Sam Buck Rosen's gift for rhythm, you must listen to this song on headphones. His rich voice gutters out over the hot mix in a game of tag with the undulating beat, panning out in amber-hued ribbons against staggering handclaps, distorted guitar and gorgeous cooing. Have you ever had a full-grown man coo? Because it is something to behold. I can't listen to this without feeling I'm trapped inside a wind tunnel. A wind tunnel that I want to dance in. It's dense and thick, hot and sweaty. The song ends before he gives you a moment to compose yourself and grasp onto a ledge. His record just came out this January on St. Ives and it's a gem: hooky, sexy, and confident. The soundtrack to a raucous party you wish would never end. This song is just dying to be remixed. -- Casey

Ghostface Killah ft. Raekwon, Slick Rick, & Rza - "The Sun" [buy]

In '05/'06 while I was on Glacial Ghost Tour with my other band we had a little CD playing alarm clock radio containing a burned CD with 10 or so tracks of this song. Every night as we bedded down on some cat-piss stained floor we slept on we'd set up this alarm clock and every morning when it was time to get the tofu scramble and home fries started we'd wake up to this. Always an uplifting jam, I love this song front to back. GHOSTFACE IS RAPPING THE SUN'S PRAISES. How sick is that? Rae is on point as always and Slick Rick is flawless over this breezy RZA beat. -- Shawn

Nat Baldwin - "One Two Three" [buy]
"One Two Three" comes off of 2007's MVP, one of my favorite albums by Nat, really one of my favorite albums by anyone. His songs settle in slowly like creeping vines, hooking me in when I least expect it. A few days after I first heard this song, its melody returned to me a few days later as I was gardening and it hasn't really left me since. That was about two years ago now. Listen to how deftly it unfolds with touches of Chris Taylor's production, leading off with a simple contrabass tune played with a sawed-off bow, his voice perched hawk-like in its high register before twisting down into a darker, menacing tone. Harmonies and a waltzing beat flank him during the refrain, retreating into the ether just as your ears begin to adjust. Though they drop out of the mix, it is easy to imagine them poised in the wings, ready to strike at the first hint of a threat. It's a gentle warning from a prize-fighter, a sweet song lined by rows and rows of sharp teeth. -- Casey

Erykah Badu - "Hip Hop/The Healer" [buy]
Erykah Badu - "Telephone" [buy]
I'm just gonna come right out and say it: Erykah Badu is one of my favorite singers alive. She is a fearless and ambitious chameleon and her voice is her weapon. On New Amerykah: Part One (4th World War), she paints her world in spheres. On "Hip Hop/The Healer", she sings of rebirth over a patient beat that ripples out behind her like rings on the surface of a lake. She comes across as sexy, tender, cool, enraged, strong, and even a bit silly but "Telephone" strikes me as the most revealing. Here she says everything by saying very little at all. Written the day after J Dilla's funeral, it's a dusk-bitten elegy containing one simple wish for the one she loves to "fly away to heaven" and make a place for her there. When her voice collapses into a raw, low moan towards the very end, it seems like all might be lost. Yet it's her most emphatic hope that stays with me long after the song has ended, the joy crackling in the top of her voice as she sings: "Celebrate your life, OH! Say 'I love you!'" -- Casey

[White Hinterland are Casey Dienel and Shawn Creeden. They live in Portland, Oregon. Visit their website and buy their new album, Kairos. You also owe it to yourself to see them on tour, visiting North America, Britain and Europe this spring. They play Montreal's Casa Del Popolo on April 20. ]

(Previous guest-blogs: Bear in Heaven, artist Michael Krueger, artist Amber Albrecht, The Whiskers, Silver Jews, artist Ariel Kitch, artist Aaron Sewards, artist Corinne Chaufour, "Jean Baudrillard", artist Danny Zabbal, artist Irina Troitskaya, artist Eleanor Meredith, artist Keith Greiman, artist Matthew Feyld, The Weakerthans, Parenthetical Girls, artist Daria Tessler, Clem Snide, Marcello Carlin, artist Johnnie Cluney, Beirut, Jonathan Lethem, Arcade Fire, Al Kratina, Eugene Mirman, artist Dave Bailey, Agent Simple, artist Keith Andrew Shore, Casiotone for the Painfully Alone, artist Kit Malo with Alden Penner (The Unicorns) 1 2, artist Rachell Sumpter, artist Katy Horan 1 2, David Barclay (The Diskettes), artist Drew Heffron, Carl Wilson, artist Tim Moore, Page France, Devin Davis, Okkervil River, Grizzly Bear, Hello Saferide, Damon & Naomi, Brian Michael Roff, producer Howard Bilerman. There are many more to come.)
Posted by Sean at
1:46 AM
|
Comments (10)