Nontroversial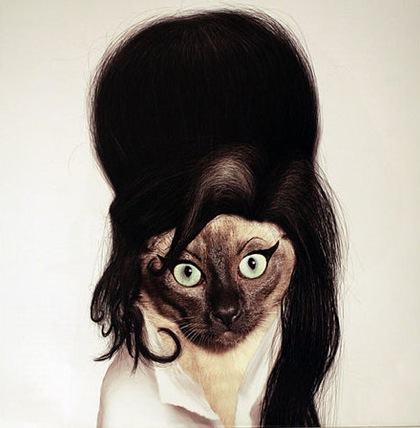 Fiery Furnaces - "Keep Me In The Dark"
She was running late and took a cab to work in her pink ruffled dress. "Where you headed?" "The Apollo." "Fancy. Meetin' a date?" "I work there. I'm a singer." "Fancy."
She played with her wallet, waiting to pay. She watched the fare go up, trying to guess. They passed Dovercourt, and Apple Grove, and Lacette, and turned on Havenhurst. As they rounded the corner she whipped her head back to see someone they had passed. "Stop, please! Stop stop!" He heaved the cab to a stop, annoyed. She flung two fives in the front seat like confetti and leapt out.
"David!" she was running, and thought, I shouldn't run, what will he think. They talked easily and with smiles, and she carried shoes in her hand, as they walked together to the Apollo.
Months pass.
On the night David left, she almost couldn't make it in to work. "You must go," he had said, "sing a song for me." She had cried, had embarrassed herself in front of the entire lineup. She remembered watching the steamship leave and thinking I'm watching him leave on a steamship, as she sang "I Dream of Jeanie With the Light Brown Hair", slowly, to a spare crowd.
Eleanor Friedberger - "Keep Me In The Dark"
She sang "Pack Up Your Troubles (In Your Ol' Kit Bag)" and brought the house down. She got down off the stage and went straight to the bathroom, where a woman was crying in the stall next to her. She went out the back for a smoke, and there was a mean old dog chained to a post outside the kitchen of a nearby restaurant. There weren't any stars in the sky save a couple little specks. She went home and speed-dialed 'Frank'. "I had a great show tonight, I killed it." "Beautiful, baby." She held the phone with her shoulder and slipped off her pink ruffled dress.
Months pass.
It was pressing 11 on a Saturday; the home stretch. She was in the middle of "Too-Ra-Loo-Ra-Loo-Ral" when Frank walked in. Oh, Christ, Hell, Dammit. Why does that sonofabitch have to be so damn good-looking? She twirled the microphone cord in her hand and smirked like nothing was wrong. Frank stayed for one drink and left.
Matthew Friedberger - "Keep Me In The Dark"
In a pink ruffled dress, rumpled and folded beneath her, her 3am make-up was streaked and her necklace askance. Her drink was so old it had stopped sweating, she clinked her ring against the glass. A big hand shoved a note in front of her face. It was Stooley, the bartender. She looked up. The note said, "ice ain't a meal", and she crumpled the paper and looked around. A shady figure in the back, near the bar slots. She got up and went over. Together they stumbled home and sang songs in the hot night.
Months pass.
She ran down the street in one high heel, throwing an undershirt at the back of Carlos' car. "Take your fuckin' shit!" The brown Impala limped away, chugging gas, and she limped home, her ankle twisted and tears galore. She took a sullen shower and sang a soft song. She put on the pink ruffled dress and went to work.
[Buy I'm Going Away]
[Buy Take Me Round Again]
(image)
Posted by Dan at
9:00 PM
|
Comments (5)