Bent Rings
Troupe Majidi - "Rsami" "Take this note to your father, do not show it to anyone, do not read it yourself, it is meant only for him." Heji's mother was cold and her hands were cold, clasping the note closed in his palm.
Heji went out into the wet air and headed over the ridge. Down the dirt road under the catavan trees and past jum bushes, down into the twinkle lights of Manaja, its sweaty streets and pulsing life. He passed street women and honking taxi cabs, big large men guarding light-up bars, a man in an alley eating something out of a paper bag. When he got to the corner with the gas station and the burnt-down papery, he went up the stairs above the grocer and saw a skinny old man on a stool in front of a door. "I must see my father," said Heji to the skinny old man. The man did not answer, but slouched back on his stool, his cigarette nearly falling out of his mouth, and opened the door to loud music inside. Heji had never been inside Bar Panther, and he was surprised how dark it was. The light behind the bar was all there was, and he tried to remain calm while he searched in the darkness for his father. He got very close to a few patrons, only to find they were not his father, their faces drowsy and confused as he approached, the smell nauseating. He was hit by the swinging bathroom door, and he stumbled toward the bar. He climbed on a stool and asked the bartender, his voice shaking, "Have you seen my father? Is he here?" The bartender smirked down at Heji, "Who is your father?" "Luni Tesit, he's a worker at Rejar Factories." The bartender lost his smirk. "He's busy, what do you want?" "I am supposed to give him a note from my mother." "Give it to me, I will give it to your father." "No, I was told to give it to only him." Heji made the mistake of holding the note near his face, as if to say, "this, here, is my job," and the bartender snatched it from his hand. Heji bit his tongue and tried not to wail as the bartender read the paper. He crumpled it, "Wait here."
A few endless minutes went by as Heji waited for the bartender to return. He looked around, sleepy sad faces everywhere and the music so terribly loud. He put his head near the bar, craned it sideways to try to read the note without touching it. It appeared to be blank. It appeared to be a ripped piece of the calendar, a ripped square showing today's date. Suddenly the doors to the back room burst open and Heji's father came out, smiling. "Hej! What are you doing here?" he asked in their language, "Come on, let's go home." He did not seem drunk, he was not upset, he said he was just very busy but that business went very well. They talked on the way home about what they would bake the next day in celebration; crushed mangos and lime juice and sugar.
[Buy from Sublime Frequencies]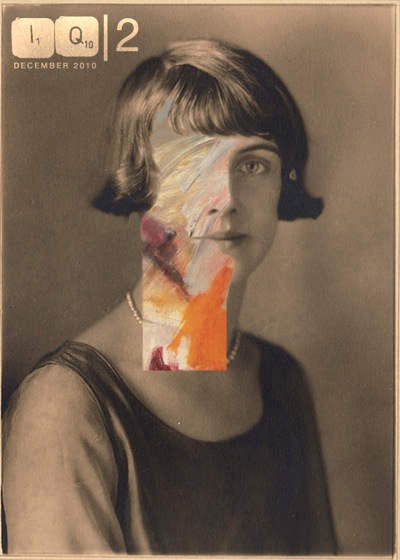 It's Christmas Eve, and as my gift to you readers, I am extremely proud to send you to the music section of Issue 2 of The Incongruous Quarterly, edited by myself, the inimitable Emma Healey, and Mike Chaulk. The Incongruous Quarterly, if you haven't already heard, is an online quarterly publication focusing on 'publishing the unpublishable'. So Emma asked me to help curate a music section for the new issue, a collection of 'unpublishable' music from artists we love. And the result is really really great. The range of finished-ness and unpublish-ability is wide and makes for a unique listening experience, it's almost like looking at a craft fair; some of it is insanely lush antiques and some are just scrawls on a postcard, but each have their beauty, their own particular existence. It's a kind of mixtape unlike any I've compiled before, it's rough edges mixed with gilded curves, it's poetry and sound experiments and kick-you-in-the-face demo recordings.
Tracks from Jumbling Towers, Jasmyn Burke of RatTail, Amy Klein of Titus Andronicus, Grand Trine, Holy Fuck, Mean Wind, Little Scream, and others.
Go listen, enjoy.
(NB: it's not holiday-ish or christmas-y, but it is a gift)
Posted by Dan at
12:09 AM
|
Comments (3)